What Is In A Maryland DUI Retainer?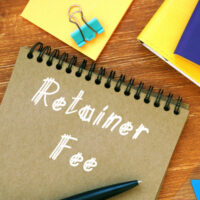 If you were arrested for a Maryland DUI, you need to take the charges seriously. While you may view it as a mistake, the consequences can be serious and could haunt you for years. To protect yourself moving forward, hire a skilled lawyer to guide you through the process. And when you reach out to attorneys, it is likely they will ask you to sign a retainer agreement. Take time to ask questions and understand the agreement so there are no surprises later.
A legal document that outlines how legal fees will be handled, a retainer is a tool to make the financial aspect of your relationship with your Baltimore DUI lawyer clear. Once you are familiar with the terms in the agreement, and both you and your lawyer sign, your attorney can begin working to fight for your freedom, either minimizing the consequences or having the charges completely dismissed.
Set and Variable Fees
The set fees in a retainer agreement are often called flat fees. Flat fees refer to the amount a lawyer will be paid to craft your defense and see your case through to completion. This number is not subject to change.
Naturally, there are other expenses when fighting criminal charges. If there are additional fees because courier services are required or there is a need to hire other professionals, such as private investigators, those fees will be outlined in a retainer agreement as well. Typically add-on expenses are added to the flat fee and covered by the client.
Lawyers Can't Guarantee Outcomes
It is natural to have a lot of anxiety about criminal charges. You likely want to know what the final outcome will be, and at an initial meeting an experienced Baltimore DUI lawyer can share with you what they believe is possible and how to achieve those results. But in every criminal case there is the possibility of unexpected information coming to light or a change in circumstances. Because of this, retainers contain language that makes it clear that a positive or negative outcome is not promised. Your lawyer will do their best to connect you with the best resolution possible.
If you have never hired a criminal lawyer before, it is normal to have questions about the process and agreements. You want to work with an attorney you can trust, feel free to bring your inquiries to each meeting. And if you do not fully understand information that is being shared with you, let your legal representative know so that they can provide you with the definition you need to comprehend the situation.
Do you have questions about retainer agreements? Do not let your fear of legal documents steer you away from hiring an experienced attorney. You need legal representation after being charged with a DUI, whether you are a first-time offender or a repeat offender. A skilled Maryland attorney can help you with Baltimore-Washington Metropolitan area charges. To learn more, contact the legal team at Iamele & Iamele, LLP. Schedule your free initial consultation today. Contact us to book your appointment.