What Is Civil Litigation Following A Maryland Crime?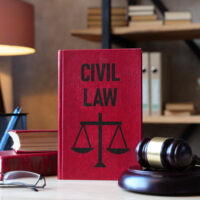 When a crime is committed in Maryland, the perpetrator is often subjected to criminal charges. Additionally, victims of the crime may pursue civil litigation against the perpetrator. This type of case moves forward in order for an individual to receive compensation for losses and damages as a result of the crime.
Civil litigation is a legal process that involves one party filing a lawsuit against another party in order to resolve a dispute, and a Baltimore crime victim lawyer can fight for your right to recover damages. In Maryland, victims of crimes have secured criminal damages, including compensation for medical expenses, lost wages, pain and suffering, and other losses.
Civil Litigation Is Not Criminal Prosecution
One common example of civil litigation following a Maryland crime is a personal injury lawsuit. For example, a hit-and-run is a crime, and the victim of that action could file a personal injury lawsuit against the at-fault party in order to settle the range of bills they have gathered as a result of the criminal act. Theft and fraud victims have also used civil litigation in order to be made whole after financial losses due to a crime.
Offenders or third parties who were reckless could be held accountable for harm connected to any of the following crimes.
Sexual abuse
Assault and battery
Fraud and white collar crimes
Home invasions
Domestic abuse
Criminal events in businesses
It is important to note that civil litigation is a separate process from criminal prosecution. The state brings criminal charges against a perpetrator, and they do so to punish the individual, but  civil litigation is legal action by the victim, a person or group who seeks to be compensated for their own loss.
Considerations to Weigh
Before making the decision to move forward with civil litigation, have a thorough discussion with an attorney about the time, emotional investment, and cost you will be facing. Often it is worth it to the individual to engage with civil litigation, but going into the process with a full understanding of what will be happening, each step of the way, is important.
For example, there is typically a period of discovery, an early fact-finding stage when evidence is collected. Depending on the situation, there could be financial expenses connected to gathering all the documentation needed to prove the need for monetary relief.
Civil litigation can be extremely complicated, but an experienced Baltimore crime victim lawyer has the expertise you need. Once an attorney is informed of your losses, they can share what options you have for recovery. Then, they will fight for your rights through claims, lawsuits, and other forms of legal action.
Do you believe you should be compensated after a Maryland crime? Civil litigation could be the process for you. Talk through what sort of legal process would allow you, as a victim, to access compensation for losses suffered as a result of the crime with the skilled attorneys at Iamele & Iamele, LLP . Schedule a free initial consultation today. Contact us to book an appointment.