What Do I Do If I Had an Accident with an Uninsured Motorist?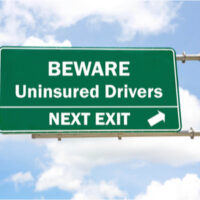 After a car or truck accident, many turn to insurance companies for compensation. Ideally, every driver has auto insurance, but that is not always true. In fact, according to the Insurance Information Institute, over 12% of drivers in Maryland are uninsured motorists.
In Maryland, as in most U.S. states, car insurance is required. But, if you happen to be in an accident with an uninsured or underinsured driver, there are paths to compensation. Discuss your accident details with a knowledgeable Baltimore auto accident lawyer today.
Types of Car Crash Injuries that Lead to Expenses
Not every car crash injury results in a financial settlement, but there are times when expenses need to be covered by a negligent party.
Damages from auto accidents that could result in a settlement:
Hospital charges.
Doctor bills.
Physical therapy fees.
Intangible losses, including pain and suffering.
Wrongful death.
When there are severe injuries as a result of a vehicle accident, expenses can grow fast. It is common for families to find themselves with medical expenses that are far too high for a family to pay out of pocket. Even families with health insurance can find the amount they are responsible for is beyond the family budget. If there is an at-fault driver, their insurance may help. Of course, if they are underinsured or uninsured there are other avenues to explore with the help of your attorney.
Does the Uninsured Driver Have Any Assets?
Litigation could be a possibility if a Maryland driver is uninsured but does have personal assets.  Of course, it is not always clear how many assets an individual has. The at-fault party may claim to have no assets at all but actually be shielding some of their finances. A lawyer can research to see if there are hidden assets. There are assets beyond liquid cash to explore as well.
If a lump sum is not an option, a payment plan may be a solution. Judges can determine a timeframe over which a sum of money will be paid. The amount can even be segmented, with some financial support settled immediately while another amount is paid over time.
Depending on the extent of your injuries, there may need to be a negotiation with your own insurance and an investigation into the assets of an at-fault, uninsured driver. And when an individual is healing, their health is priority number one. A Baltimore auto accident lawyer  can help you secure the support you need. There is no need to allow the situation to confuse you or cause anger, instead a lawyer can bring their expertise to your situation.
Were you hit by an uninsured driver and was injured? Did the crash result in injuries? Your first step is seeking medical attention and taking care of your health. Then, you need to talk to a lawyer. Contact the legal team at Iamele & Iamele, LLP to understand your options after a car accident in the Baltimore-Washington Metropolitan area. Contact us today for a free initial consultation.
Resource:
iii.org/fact-statistic/facts-statistics-uninsured-motorists
https://www.iamelelawfirmbaltimore.com/baltimore-car-crashes-and-subtle-injuries/