What Are WAD Symptoms?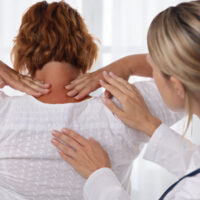 Seeing a doctor because of neck pain following a motor vehicle accident is common. And diagnoses are often connected to whiplash associated disorder (WAD) after a vehicle collision. WAD symptoms can also be experienced after slips, falls, and sporting injuries.
Any event that aggressively snaps a person's neck and head back and forth can result in a whiplash injury. If you are experiencing neck pain following a slip and fall event, motor vehicle collision, or sport accident, seeing a doctor as soon as you can is essential. Delaying a medical visit because you are worried they will advise you to take time off of work could lead to more physical and financial issues later. Healing your body is part of protecting your future. Bring your accident evidence and monetary concerns to the attention of a Baltimore personal injury lawyer to determine if compensation is possible.
WAD and Rear-Impact Collisions
When a person is at a stoplight, and their car is struck from behind, it is possible their top vertebrae will rise on impact, pressing into their skull as their neck is pushed back by force. Next, the force could whip their head forward, potentially harming ligaments in the neck and muscles in the back. While WAD can occur in a range of situations, rear-impact collisions are particularly prone to whiplash injuries.
WAD Indicators and symptoms:
Pain in back, neck, and shoulder
Hindered mobility
Stiffness
Loss of balance
Dizziness
Tinnitus
Malaise, depression, or sadness
Sleep problems
Confusion and memory issues
If you are experiencing any WAD symptoms, talking to a healthcare professional could lead to physical relief. A full recovery may include a period of rehabilitation.
Rehabilitation, Medical Expenses, and Legal Support
Expenses following an accident injury could include the doctor bills from the initial visit and physical therapy fees for months following. And the totals can quickly increase if there were emergency treatments, hospital stays, and surgery.
If rehabilitation is part of your WAD recovery but you are worried about losing income and accumulating physical therapy fees, explore financial damage recovery options. Complete recovery from an injurious event often includes a variety of supports, including your healthcare team guiding you to a physical recovery and a legal team fighting for the full financial recovery you need while you focus on healing.
Talk to a Baltimore personal injury lawyer about your neck, back, and shoulder injuries and the possible value of a personal injury claim. An attorney can help, whether your injuries were sustained in a car accident, truck collision, motorcycle crash, or slip and fall event.
Have you been discussing WAD with your healthcare team following a Maryland accident? Medical bills and lost wages can put a lot of pressure on a family. If your expenses are higher than you can afford and you believe another should be held accountable, talk to a skilled attorney. After an accident in the Baltimore-Washington Metropolitan area, contact the legal team at Iamele & Iamele, LLP. Schedule your free initial consultation to share your story with a legal professional. Contact us to book your initial appointment.