What Are Slip and Fall Cases and Where Do They Occur?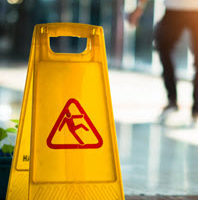 It is human to sometimes get hurt. So it stands to reason that sometimes people slip or fall. Thankfully, in most instances, individuals are able to get up and go about their day without injury. But there are times when medical attention is needed following a fall. There are even instances when lifelong injuries have been the result of a slip.
When severe injuries happen, people often need compensation from a party responsible for the injury. If you slipped or fell and were injured, contact a Baltimore personal injury attorney to determine who is liable.
How Is a Slip and Fall Case Different Than Other Claims?
A type of personal injury claim, a slip and fall case happens when a person falls, trips, or slips on the premises of another party. When the fall or slip was a result of careless or negligence on the part of the property owner, the case can move forward.
Examples of negligence on the part of property owner include the following:
Carpeting that is torn.
Inadequate illumination in public spaces.
Icy, snowy steps.
Slippery, wet floors.
Sidewalks and walkways that are chipped or cracked.
Even if the negligence seems clear to you and your family, it must be proven. Proving carelessness can be complex. With a lawyer's help, you will need to prove that the owner created the risk, knew about the risk but failed to fix it, or the risk was present for an amount of time that should have been noticed and addressed prior to the accident.
Where Slip and Fall Cases Happen
There are a variety of places where individuals can be injured and move forward with a slip and fall case. Any property that is maintained or owned by another is a possibility. In most cases, you will find the accident happened on a commercial, residential, or government property.
In residential circumstances, the dispute could be between tenants and landlords and may be connected to safety codes that should have been met. When an accident happens on a commercial property, the victim often needs to prove a property owner of a store or restaurant should have known about a risk, had they been acting responsible.
When it comes to government properties, there can be special regulations to move a case forward. A Baltimore personal injury attorney can explain this process, when applicable.
While slips and falls can happen in a wide array of places, the goals of a claim remain the same. For a strong claim, the injury has to be connected to a direct negligence of the property owner. The failure of a property owner to maintain a safe property needs to be proven.
Because proving negligence can be difficult, it is best to speak with a lawyer. An experienced legal professional will be able to look at the circumstances of your accident. Then, they can deduce if you have the right situation for a strong legal action.
Were you injured when you slipped, tripped, or fell on someone else's property? Contact the legal team at Iamele & Iamele, LLP for a free initial consultation.
https://www.iamelelawfirmbaltimore.com/what-if-i-work-from-home-and-get-injured/