Vet Bills and Car Accidents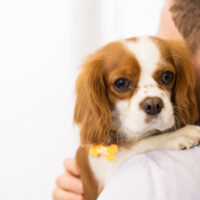 If you have pets that are regularly traveling in the car with you, you may have wondered about the possibility of an animal being injured in the event of a collision. Dogs and cats have been injured in Baltimore-Washington Metropolitan accidents and needed care from veterinarians, just as humans sometimes need medical care after a car accident.
It may be possible to be compensated for your veterinary bills. An experienced Baltimore auto accident lawyer can assess your situation and let you know what compensation options might be available.
Deciding Who Is Responsible
When an individual is seeking compensation for injuries and property damage, who will pay often is connected to who was responsible for the accident. Because it can take time to determine this, if you do have a pet who was injured, keep all documentation from the veterinary office. This includes health reports and payment receipts.
If the accident occurred because of your actions, it might be possible that expenses for animal injuries could be covered under your insurance plan. This type of coverage would be clearly spelled out within your policy.
When another person was responsible for the collision, you may be able to secure compensation from their insurance policy. This type of compensation is likely. The reason is that animals owned by individuals are typically cited as personal property within a plan. An experienced Baltimore auto accident lawyer will be able to assist you in filing a claim with another individual's insurance.
How to Drive with Pets and Avoid Animal Injuries
Driving always comes with risks to humans and animals but there are ways to make driving safer for furry friends.
When animals create hazards. It is essential to not have dogs jumping on the laps of drivers or creating other distractions when a person is safely focused on the road. Pets need to ride safely in their own area. If they are not trained properly they need to be crated for safe travel.
Opt for pet insurance. When a pet owner purchases a pet policy, they will be able to get their animal care, immediately, should an accident occur. Treating injuries immediately is the best path to recovery, pet insurance in addition to other policies will help you to be confident all procedures are covered right away.
Train young animals. If an animal joins a family as an adult they may already have bad habits in cars and need to be crated when traveling. But, if the animal is young when they join the family, it may be possible to train them to ride calmly.
Was your dog, cat, or other pet harmed in a car accident? You need an attorney on your side. Contact the legal team at Iamele & Iamele, LLP to understand your options following a crash. Our attorneys successfully secure compensation for accident victims in the Baltimore-Washington Metropolitan. We have extensive knowledge and experience in accident cases, including those involving family vehicles. Contact us today for a free initial consultation.
https://www.iamelelawfirmbaltimore.com/accidents-due-to-sun-glare/