Truck Crash Cases And Data Recorders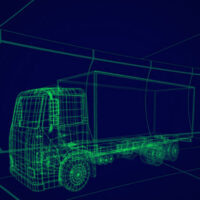 If you have been involved in a Maryland vehicular accident, you may be coping with physical pain, emotional distress, and financial worries. But damage recovery could be a possibility, depending on the specifics of the situation.
Every accident is not the same. For instance, large truck crash claims are a lot different than passenger car collisions. After all, the weight of trucks can mean more damage is sustained and when it comes to compensation, a commercial trucking company will activate their legal team in the negotiation process. Reach out and share your story with a Baltimore personal injury lawyer to decide on how to proceed.
Types of Trucks, Vehicle Weight, and Data Recorders
There are many different types of trucks that are used for professional reasons, including cement trucks, agricultural trucks, box trucks, flatbed trucks, and semi trucks. If you have been injured in an accident and a truck was part of the collision, the type of truck will make a difference.
For example, large commercial trucks may have data recorders installed. If this is true in your situation, professionals who are experienced in downloading the information recorded can access the truck history and determine if there was negligence. So while it may be true that a semi truck operator is required to maintain a log of their rest periods, if their personal log does not match the data recorder, that may be evidence of sleep deprivation being a contributor to the collision.
Your attorneys have the background to take all of the evidence and analyze the state and federal trucking industry laws. They will know if safety regulations were not followed, either by the truck driver, the company they work for, or both.
Wherever in Maryland your truck injury was sustained, a Maryland truck accident attorney can inform you of what level of monetary settlement is possible and what steps need to be taken to make that compensation award a reality.
High Monetary Recovery Could Be Possible
There are rules in place due to the weight, size, and possible harm of trucks. For instance, there are insurance coverage requirements that are directly correlated to the mileage a truck covers and how much the vehicle weighs. These rules are set because high monetary recovery is often needed, and it is essential a trucking company has a policy in order for those funds to be accessed by those injured in a vehicular accident. To learn more, talk to a Baltimore personal injury lawyer
Do you have questions on how to proceed with a Maryland accident claim involving a truck? One of the first steps is understanding the value of your claim, reaching out to the attorneys at Iamele & Iamele, LLP means you will have an expert on your side to review your claim. With extensive experience in vehicular claims, including truck accidents, our attorneys know what steps need to be taken to secure the damage recovery you need. There is a legal path to protect your financial future. Contact us to get started, schedule your free initial appointment today.