Tips For Safe Night Driving In Baltimore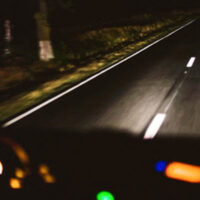 According to one report, a driver is three times as likely to be in an accident at night than they are during the daytime hours. This can be true for a variety of reasons. For some, night visibility is an issue. Others cause collisions when they fall asleep behind the wheel. There are even times when individuals are blinded by the lights of oncoming traffic and can't operate their vehicle safely.
When an accident happens, injuries are possible. If you were hurt while driving at night in Baltimore or in the DC area, compensation may be possible. To learn how you can secure a financial settlement to help you pay expenses and move forward, talk to a Baltimore car accident lawyer. Accident claims can be complex, a legal professional can guide you through the process and negotiate with insurance company representatives and lawyers on your behalf.
Clean Windshields and Mirrors
Taking care of your car is one of the ways to stay safe on the road, this is true when driving during the day or at night. After all, if your vehicle isn't in top condition, you may not be able to react to road risks in time to prevent a collision.
Keeping mirrors and windshields clean and in good condition can help when driving in dark conditions. This is because smudges and smears can exacerbate glare. Positioning mirrors correctly can also be helpful.
Of course, a well-maintained car is not the only thing that can keep you, your passengers, and others on the road safe. You also need to be aware of your own behaviors. For example, when people are driving at night they may be tired. If you are unable to keep your eyes open, pull over. And if you feel like you are tired before heading out, delay your trip and take a nap. Driving while sleepy is incredibly dangerous.
Regular Vision Screenings Can Help Detect Issues
There are also times when drivers have gone too long without a vision screening. A person's vision can change over time. If you are experiencing night eye strain, discuss your concerns with your eye doctor. You may need a different type of corrective lens or your doctor may be able to share strategies with you that help to avoid eye fatigue.
Car accidents can happen at any time, day or night. Even when a car is in good share and a person has done all they could to try and stay safe. If another was negligent and you were hurt as a result, discuss the details of your accident and recovery with a Baltimore car accident lawyer.
Were you hurt in a car accident while driving at night? Do not sign a settlement agreement until you understand all of your damage recovery options. You need an attorney working for you. Contact the legal team at Iamele & Iamele, LLP to understand your claim options. Our attorneys successfully secure compensation for individuals coping with car accident injuries in the Baltimore-Washington Metropolitan area. Contact us today for a free initial consultation.