Timeline of a Slip and Fall Settlement in Maryland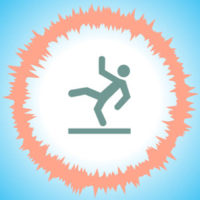 The term "slip and fall" is a common description for a certain type of personal injury claim in Maryland. Referred to legally as premises liability, this doctrine imposes a duty upon property owners to maintain their property in a safe condition. If a visitor slips and falls on the property — or otherwise sustains injury or harm — then the property owner may be held liable in court.
At this juncture, it is vital to note that there are many legal conditions and requirements for this type of personal injury claim. For an in-depth exploration of premises liability from a legal standpoint, interested parties can review this recent blog post — Explaining Premises Liability and Negligent Security in Maryland.
That being said, it is increasingly common to see slip and fall cases settle out of court. By negotiating directly with each other, the parties can achieve a mutually acceptable settlement — without incurring the substantial legal fees associated with a trial. Given this efficiency bonus, it is progressively rare for premises liability cases to see the courtroom.
Recovery
Before making any demands, it is generally wise for the injured party to recover and seek medical treatment. Once the injured party accepts a settlement with the property owner or insurance company, it is extremely difficult to secure additional compensation.
As a result, it is important for the injured party to recover fully, if possible. Once treatment is complete, then the injured party will have an exact figure for all medical bills and related fees. Additionally, the injured party will know exactly how much time they missed at work, providing insight into lost wages.
In certain cases, however, this may not be possible. If the injured party suffered a permanent disability, then medical treatment may continue indefinitely. The injured party may not be able to return to their previous job. In these cases, the injured party may need to justify past costs and estimate future costs in their settlement demand.
Demand
Within three years of the date of injury, the injured party must bring an official legal action against the property owner. Even if the case settles out of the court, the injured party must ensure that they jumpstart the legal process within the three-year statute of limitations.
In addition to providing legal justification for their premises liability claim, the injured party will ask for damages.
Economic damages cover all of the quantifiable costs associated with the slip and fall incident. This category includes medical bills, lost wages and other exact costs. Noneconomic damages cover any other costs that are more difficult to estimate. This category includes pain and suffering, emotional trauma, loss of support and similar costs.
The injured party will work with their attorney to calculate a total sum for economic and noneconomic damages. This is the settlement amount that the injured party will ask the property owner to pay to avoid going to court.
Settlement
After receiving the initial request and settlement amount from the injured party, the property owner or their insurance company will review and consider. In many cases, there will be a counteroffer and a negotiation ensues between the attorneys. A settlement only occurs if both parties are willing to agree on the settlement amount and corresponding terms.
If the parties to a premises liability dispute are not able to agree on a mutually acceptable settlement amount, then the case may proceed to trial. At that point, a judge or jury will examine evidence to determine the liability and amount of damages, if any.
Let Us Help You Today
If you were injured in a slip and fall incident or other premises liability accident, it can be extremely helpful to speak with a Maryland personal injury attorney. The attorneys at Iamele & Iamele, LLP in Baltimore, Maryland, have experience handling a diverse range of legal matters, including premises liability. If you have legal questions, contact us today for a free initial consultation.