Texting And Driving Laws In Baltimore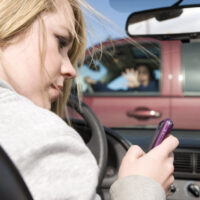 In the state of Maryland, there are laws in place that prohibit drivers from texting while driving. IN fact, there are restrictions on using hand-held devices at all when you are behind the wheel. Because these laws are categorized as primary offenses, law enforcement can pull you over or stop you in connection with MD texting while driving laws.
Seeking compensation after being struck by a driver who was texting can be complicated, particularly if their insurance company is asserting that your version of events is not what truly occurred. Hire a Baltimore personal injury lawyer to fight for the damage recovery package you need.
Consequences of Texting While Driving
Your attorney will advise you on how to achieve the best settlement, which could include them working to gather additional evidence. And if an insurance amount is simply not high enough, a civil lawsuit could move forward.  If a driver is facing criminal consequences, those will be addressed through the criminal process, separate from civil action.
Fines and driving points are all possible if a driver texting behind the wheel is discovered. Penalties increase when serious injury or loss of life follows a crash. And young drivers, those under the age of 18, are blocked from using any device at all when behind the wheel, including hands-free options. Minor drivers who are texting can face fines and license suspension.
All Forms of Distracted Driving Carry Risks
While using cell phones and digital devices is second nature for most people, something people do daily to stay in touch with friends and family as well as pursue their career aspirations, it is essential drivers understand that texting is an extremely dangerous form of distracted driving.
Anytime a driver is engaging in an activity that takes their attention away from the task of driving and the road itself, the vehicle operator is driving distracted. Everyone's safety is compromised when a person is not paying attention, including those in the vehicle, pedestrians, bicyclists, and others using Maryland roadways.
Connect with a Baltimore personal injury lawyer as soon as you have seen a medical professional and have a treatment plan in place. Seeing your primary care doctor, visiting an urgent care center, or accessing another licensed healthcare professional's opinion is essential. Accident injuries are incredibly stressful, exhausting, and expensive. When you retain an attorney, you can focus on your physical health while a legal team works to fortify your financial future.
Did the accident you were involved in occur because of a texting driver? Legal help is available after a car crash injury in the Baltimore-Washington Metropolitan area. To have the details of your case analyzed, contact the legal team at Iamele & Iamele, LLP. Our attorneys will look over the facts and discuss the possible value of your claim with you. Then, compensation settlements can be pursued. Our legal professionals will fight for your financial recovery, every step of the way, from insurance negotiations to filing a civil suit. Schedule your free initial consultation to get your claim started. Contact us today.