Testifying, Consulting, And Other Expert Witnesses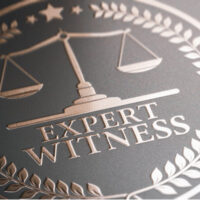 Expert witnesses can add valuable information to a claim or case. In many instances, they bring knowledge that couldn't be accessed without their accounts. There are two types of expert witnesses; consulting experts and testifying experts. To learn more about what type of expert could support your fight for a maximum settlement, connect with a Maryland lawyer who understands local laws.
There are rules in place when it comes to expert witnesses, you need to connect with well-respected professionals or individuals who actually witnessed the injurious event. Accidents can be complicated events, but a Baltimore personal injury lawyer has the resources you need, including contacts to experts who are qualified and open to providing a credentialed account.
Understanding Different Witness Types
Consulting experts are able to provide support on the building of a strong claim or case while testifying experts are professionals who your attorney can connect with that will bring clarity on your case to insurance companies, juries, and Maryland courts. So, depending on the details of your case, it may be possible for a person to be both a consulting witness and a testifying witness.
Some of the professionals your lawyer could contact include the following:
Accident reconstruction professionals. If it is not clear why an accident occurred, a reconstruction specialist could be an asset as they will use scientific training and technology to discern why an accident took place and whether it was due to road conditions, driver behavior, or a combination of factors.
Doctors, nurses, and healthcare providers. Medical professionals who treat your injuries can provide information on the extent of the physical damage sustained and if complete recovery is possible.
Financial professionals. Wage loss and other financial damages can be assessed and calculated by accountants and economists. For example, if a person can't return to work and will be losing out on a promotion as a result, their lost wages could include future earnings that would have been gathered but are now lost.
Emergency workers. Often police, EMTs, and firefighters are able to add important information as well. This could include facts from the scene of the accident and details about what kind of injuries were sustained. 
Experts and Complicated Cases
Once you share the details of your Maryland accident injuries with a Baltimore personal injury lawyer, you and your attorney can discuss if expert witnesses will bring clarity to the complicated components of your case. Often expert viewpoints are helpful as they can shed light on how long a recovery period might be and what level of financial relief is required.
Were you in a Maryland car accident and believe expert witnesses could help support your need for compensation? You do not have to spend years juggling medical bills and accident expenses when another was negligent. The attorneys at Iamele & Iamele, LLP can share options with you and will fight for your rights. We are committed to our clients, and understand what factors will strengthen a claim or case. Call 410-779-6160 today to schedule a no-cost consultation.