Ten Injured After Driver Crashes into Upper Marlboro Restaurant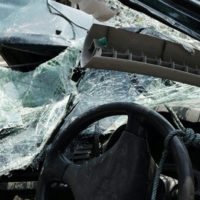 Ten people sustained injuries after a car accident at an Upper Marlboro, Maryland, restaurant, according to an article by NBC4.
Patrons were enjoying a quiet lunch service in Upper Marlboro on October 24th. Without any warning whatsoever, one of the restaurant walls explodes inward. A cloud of dust expands quickly throughout the small space, as debris flies in every direction. The ceiling began to weaken.
After the dust settled, emergency services personnel and first responders arrived on the scene. They were able to rescue everyone from danger. Ten people sustained injuries, though only a few were serious enough to require immediate medical attention. All of the injured victims are expected to survive without major complications.
According to initial reports, the driver's brakes failed. The driver was unable to slow or stop the vehicle. Panicking, the driver then veered into the restaurant and smashed through the outer wall.
As authorities continue their investigation and the victims receive medical treatment, the question of liability becomes more and more relevant. Who bears responsibility for the property damage, personal injuries and medical bills connected to this car accident? We will attempt to answer that question in the following sections by exploring various aspects of Maryland car accident laws.
Personal Injury Protection
Personal Injury Protection (PIP) is a type of no-fault insurance in Maryland. After a car accident, the policyholder can file a claim with their insurance company. PIP coverage extends to reasonably related medical costs and other expenses, with an upper limit of $2,500.
At-Fault Coverage
There are times when PIP coverage is not enough to cover an accident victim's injuries or damages. In those times, the victim can utilize an at-fault approach instead. Here the victim attempts to recover from the person who caused the car accident.
Maryland law requires at-fault insurance coverage of at least $30,000 for medical costs and $15,000 for property damage. Though in certain cases, insurance policies have an upper limit of $60,000 for the medical costs of all injured parties.
Uninsured and Underinsured Motorist Coverage
Maryland law requires all drivers to carry valid insurance coverage. But there are drivers who operate motor vehicles without valid insurance. To address these situations, insurance policies feature Uninsured Motorist (UM) coverage. UM coverage allocates a pool to injuries or damages caused by an uninsured driver, with the exact amount varying by policy.
Similarly, insurance policies also feature Underinsured Motorist (UIM) coverage. UIM coverage is useful for situations where the at-fault driver's insurance does not cover all of the expenses or damages. In those situations, UIM coverage can help bridge the gap.
Contact Us Today
Whether you are dealing with a car or truck accident or other parts of personal injury law, the details can become overpowering. That is why it can be advantageous to seek out the assistance of an accomplished personal injury attorney. Don't hesitate to contact Iamele & Iamele, LLP in Baltimore today for help.
Resource:
nbcwashington.com/news/local/Car-Crashes-Into-Restaurant-in-Upper-Marlboro-People-Injured-452807733.html