SUV Driver Smashes into North Baltimore Store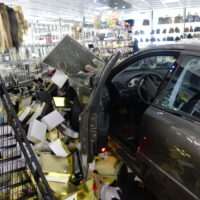 Law enforcement is conducting an investigation into a recent car accident where an SUV driver smashed into a local store, according to an article by CBS Baltimore.
This accident occurred on Friday, September 6th at approximately 4 p.m. At that point, the SUV driver was traveling on 41st Street in Hampden near Greenspring Tower Square. Based on statements from law enforcement, it seems that the SUV driver mistakenly accelerated instead of braking.
As a result, the SUV smashed through the store wall. After traveling into the store, there also appeared to be extensive damage to store racks and products. The SUV seemed to leave a lot of debris in its wake.
Outside of property damage, initial reports did not indicate any physical injuries. The SUV driver declined to receive medical treatment at the scene. Law enforcement did not believe that alcohol or intoxication played a role in this accident.
While law enforcement completes their investigation into this accident, a question remains concerning liability for all of the resulting property damage. In Maryland, there are typically two ways to recover compensation for this type of car accident — automotive insurance and personal injury lawsuits.
Automotive Insurance
Maryland law requires all drivers to maintain minimum levels of automotive insurance coverage. For personal vehicles like the SUV mentioned above, the driver must have an insurance policy that provides the following minimum coverage levels:
$30,000 for accidents involving physical injuries;
$60,000 for accidents involving two or more people; and
$15,000 for accidents involving property damage.
Depending on the circumstances of the car accident in question, the automotive insurance policy may cover all resulting physical injury or property damage. But if the total damages exceed the policy limits, then the driver may face additional liability in the form of a personal injury lawsuit. These lawsuits are often necessary when an uninsured driver causes an accident that results in physical injury or property damage.
Personal Injury Lawsuits
When automotive insurance is insufficient to cover the damage of a car accident, personal injury lawsuits allow injured parties to seek additional compensation. Whether the injured party suffered physical harm or property damage, they must generally file a personal injury lawsuit within two years of the accident date. This is referred to as the statute of limitations.
In the context of personal injury lawsuits, it is also important to remember that Maryland follows the doctrine of contributory negligence. This doctrine prevents a person from recovering legal damages if they contributed to the accident in any way. Stated otherwise, if an injured party was at fault for the accident — even in a completely minor fashion — they cannot file a personal injury lawsuit for damages.
Reach Out to Us Today for Help
If you have legal questions about recovering legal damages from car or truck accident in Maryland, it can be highly valuable to speak with a knowledgeable Baltimore car accident attorney. The attorneys at Iamele & Iamele, LLP feature proven knowledge and skill in the field of personal injury, including car and truck accidents. If you need legal help in this area, contact us today for a free initial consultation.
Resource:
baltimore.cbslocal.com/2019/09/06/car-crashes-into-walgreens-in-north-baltimore/
https://www.iamelelawfirmbaltimore.com/how-does-maryland-differentiate-between-reckless-negligent-aggressive-driving/