Stairs Have Unique Injury Risks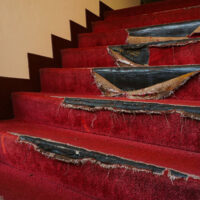 Buildings that have multiple stories often have staircases. Sometimes these are open to the public, in other situations only staff use the stairs while customers travel from floor to floor on elevators. Whether you are an employee or a guest of a business, it is important to remember that any time a staircase is present, there are stair-related injury risks, especially if the stairs are not properly maintained or designed.
Seasoned Baltimore personal injury lawyers are familiar with stair-related slip and fall cases and know how to obtain a maximum settlement when a stair accident leads to high expenses. Recognizing the common hazards associated with stairs is a first step to trying to avoid stair-related injuries, and if harm is sustained despite a person's best efforts, an experienced attorney can help.
Stair Slip, Trip, and Fall Dangers
Stairs that are too slippery can cause slip and fall accidents. Some of the common causes of slippery stairs include spills, pooled moisture, or worn-out materials. Because these are known risks, it is the responsibility of property owners and managers to ensure stairs are kept safe and hazard-free through inspections and maintenances
Debris and poor lighting are additional dangers that contribute to stair falls. When debris is left on the stairs, people may not see it and trip over it. Poor lighting can also make it difficult to see risks, leading to accidents. There are also examples of individuals who have been hurt due to broken stairs, missing handrails, and uneven steps.
Common Stair Accident Injuries
Stair-related slip and fall accidents can result in various injuries, from minor bruises to severe fractures or head injuries. Some of the most common stair-related injuries include:
Broken bones
Head injuries
Spinal cord injuries
Cuts and bruises
As is true in a range of accident types, the severity of injuries sustained can vary greatly depending on the circumstances.
For example, for individuals injured in a slip and fall accident, a fall down a flight of stairs can result in injuries that are far more severe than those sustained by a person who stumbled up a few steps. That said, even if an injury initially appears minor, it is crucial to seek medical attention as soon as possible after a stair-related accident. This is important for your own health and for documentation purposes should you move forward with accident recovery later.
Stair-related accident victims often need financial relief in order to move past an injurious event. When dealing with the aftermath of a slip, trip, or fall accident, a Baltimore personal injury lawyer can help you navigate the medical bills, lost wages, and insurance negotiations.
Are you unsure how to connect with the financial relief you need after being hurt on a Baltimore staircase? The costs associated with a stair-related injury can be substantial. You may be facing medical bills, lost wages, and ongoing treatment expenses. The legal team at Iamele & Iamele, LLP can help you recover these damages, along with compensation for pain and suffering and other related losses. Contact us to schedule a no-cost consultation.