Stair Injury Risks And Slip And Fall Accidents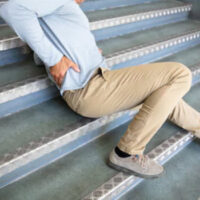 A useful, common feature in public and private buildings, stairs provide individuals and groups with access to different levels of a structure. But it is an unfortunate reality that not all stair use results in injury-free outcomes. Stairs can be a source of serious injury, particularly when they are not adequately maintained or installed.
According to one report by the National Safety Council, slips, trips, and falls are connected to approximately eight million hospital emergency department visits each year. If you were injured in a slip and fall event due to a stair-related hazard, bring the details of your case to a Baltimore personal injury lawyer.
Responsibility of Baltimore Business Owners
Business owners in Baltimore have a legal obligation to do what they can to ensure a premise is safe for visitor, customer, and employee use. Under Maryland law, property owners have to maintain a reasonably safe space, which includes addressing any hazards or risks that may arise.
Stair dangers that can lead to slip and fall events and should be fixed by a property manager or owner include the following:
Carpet tears. Carpeting that is loose or frayed is one of the most common causes of slip and fall accidents. This is because when carpet is damaged, the damage can create a tripping hazard for individuals going up or down the stairs.
Handrails not installed. Another common problem is failure to provide properly installed handrails. Handrails are an important safety tool as they provide stability and support for individuals while climbing stairs. An absence of handrails can increase the risk of falls.
Improper illumination. Inadequate lighting is also a common problem that can contribute to slip and fall accidents as improper illumination can make it difficult to see where the steps begin and end, leading to missteps, trips, and falls.
In Maryland, individuals who are injured in slip and fall accidents caused by stair-related hazards may be entitled to compensation for their damages, including medical bills, lost wages, and pain and suffering. To secure compensation, individuals must prove that the property owner was negligent and that their negligence caused the accident and resulting injuries.
Receiving a Full and Fair Recovery Settlement
Securing legal support means you will have a Baltimore personal injury lawyer working to help you gather evidence, assess the extent of your damages, and build a strong case. Your attorney can negotiate on your behalf when it comes to insurance discussions and will continue to push back on offers that are too low. And when a settlement through insurance negotiations is not possible, your attorney can take the case to court.
Have you sustained a stair-related injury that has impacted your quality of life and financial well-being? A skilled Maryland injury lawyer can help you secure compensation for your losses. Share the details of your case with the legal team at Iamele & Iamele, LLP. Of course, avoiding harm is the best approach, but when accidents happen, it is essential to know your rights and seek appropriate legal action. Contact us to schedule a no-cost consultation.