Stair Injuries And Your Right To Compensation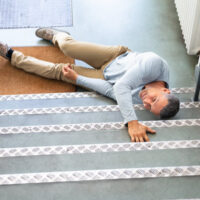 When a person falls when walking up or down a flight of stairs, injuries can be severe. If you sustained an injury when using a stairway in a DC shopping mall or a Baltimore restaurant, because the stairs were chipped or a danger wasn't posted to alert the public, you may be eligible for financial compensation. Commercial property owners need to upkeep their properties and be sure there is a reasonable level of safety for everyone using their space.
It is possible you are receiving medical bills for stair injuries while your healthcare provider is recommending future physical therapy treatments. This combination or today's expenses and possible future fees can be stressful, but there are solutions. Financial recovery could take away your money worries so you can put all of your energy into improving your health. To determine what amount is needed for you to settle your current and upcoming expense, talk to a Baltimore personal injury lawyer
Dental Damage, Back Injuries, and Concussions
While older adults can be injured when falling down the stairs and if they have existing health issues they can be irritated by the fall, it is a misconception that seniors are the only ones who are hurt in slip and fall events. Many younger adults and children are injured each year from falling down stairways as well.
Some common stair injuries include the following:
Fractures
Sprains and bruises
Cuts and lacerations
Head and neck injuries
Internal damage and bleeding
Tooth loss and dental damage
The severity of your injuries will dictate your treatment plan. Head injuries, for example, range from mild to severe. For some, their doctor will inform them of a mild concussion and advise them to stay home and rest for a few days. In other situations, head injuries can lead to memory issues and cognitive decline.
Reporting the Accident, Seeing a Doctor, and Gathering Documentation
Accidents happen in an instant, and it can be difficult to think clearly in their wake, particularly when a person is injured. For this reason, best practices may not be immediately followed. But, as soon as possible after a stair fall, inform the business of the accident and have the property owner or manager report the incident. See a doctor to have your injuries assessed and take photos of your injury and the accident site.
Next, connect with a Baltimore personal injury lawyer. Once you share your story with an attorney, they can look over the documentation you have and determine the amount needed to secure a full and fair compensation package. If more evidence and official reports are necessary, they gather that information for you as well.
Was torn carpeting or another maintenance issue the reason you fell down a public stairway? Talk to an experienced lawyer. If another was negligent, an insurance company may pay your medical expenses. Share your story with the skilled personal injury attorneys at Iamele & Iamele, LLP in Baltimore, Maryland, to determine a path forward. To get started, contact us for a confidential, free consultation.