Single-Vehicle Accidents And Injury Claims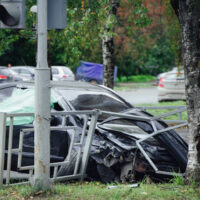 When you think of a car accident, it is common to imagine two or more vehicles colliding. But often there are accident injuries that only involve one car or truck, these are referred to as single-vehicle accidents. Although they are less common than car accidents involving two or more cars, trucks, SUVs, or motorcycles, single-vehicle crashes can be serious, leading to accident injuries and high property damage expenses.
After an accident injury involving only one vehicle or multiple vehicles, a legal team can help you recover monetary damages. When another was reckless, careless, or negligent, compensation is possible. Timing is important, so if you are considering talking to a Baltimore car accident lawyer, do not delay. Connect with a professional today.
Abrasions, Bruising, and Fractures
Many different types of accident injuries are possible, this is true if there is a multi-vehicle accident or a single-vehicle crash. Some accidents are minor and bruising can heal at home over the course of weeks or months of rest. Others suffer from compound fractures needing long recovery times, physical therapy, and surgery.
Sometimes, others involved in the event are quick to determine that a single-vehicle accident was the fault of the driver. But this is not always the case when details are assessed. There could be a defect that led the driver to lose control of their car. The defect could be in the car itself or due to a roadway not being maintained properly. Before accepting another's determination, have all the details and evidence closely scrutinized. There could be other factors to consider, beyond solely the behavior of the driver.
Swerving to Avoid a Head-On Collision
In some situations, a second car or truck holds some responsibility for an accident because they were breaking a traffic law or behaving erratically and a driver had to swerve away from the road to avoid a head-on car accident. Single car accidents can happen when this situation arises.
Witness accounts can be extremely helpful when there is confusion about the cause of a single car event. A legal expert knows how to connect with witnesses and what questions to ask. A Baltimore car accident lawyer can do this work for you, strengthening your claim.
Understanding exactly why a crash occurred is an important part of moving forward from an injurious event. After all, determining who was negligent can be nuanced. If you do not agree with the decision of why an accident happened that was provided by a law enforcement official or an insurance claims adjuster, seek out legal guidance.
Were you or someone you love seriously hurt in a Maryland single-vehicle car accident? Do not sign a settlement agreement until you understand all of your damage recovery options. You need an attorney working for you. Contact the legal team at Iamele & Iamele, LLP to understand your claim options. Our attorneys successfully secure compensation for individuals coping with injuries in the Baltimore-Washington Metropolitan area. Contact us today for a free initial consultation.