Shredded Truck Tires And Swerving On The Highway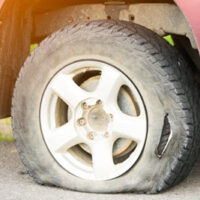 If you have swerved on the highway because you had to avoid chunks of rubber from truck tires, you are not alone. These large hazards can create accident risks, both because drivers have to unexpectedly avoid the risk or because the debris is flying through the air, possibly striking a vehicle and leading to a loss of vehicular control.
After a car wreck due to shredded truck tires, talk to a Baltimore car accident lawyer. It may be possible to secure a settlement from the trucking company, depending on the situation and details.
Adding Layers to Older Truck Tires
Tires are designed to last, a combination of rubber layers and mesh that fortifies the rubber. After all, a strong tire is needed in order to withstand regular use without breaking or exploding. But, of course, tires do wear out over time.
It is common for trucks to put on many, many miles. For this reason, tires naturally become worn down and trucking companies may try to add miles to worn tires in order to reduce the expense of replacing tires repeatedly. One strategy some trucking companies use is to add layers to tires that have worn down. The practice can be safe, particularly if the retread is done efficiently. But there are times when retreading is done improperly, which can lead to tires shredding on Maryland roads and highways.
Under-inflated tires can also be an issue. When a tire does not have a safe amount of air fill it can flatten and become heated. The heat can melt away glue and materials. Treads can detach and fall off.
Understanding Which Truck Caused the Accident
To move forward with an insurance claim or personal injury lawsuit, it needs to be clear who was negligent. If a shredded tire caused your car accident, compensation from the trucking company could be an option because they put a potentially unsafe vehicle on the road.
But there are other times when an unexpected tire shred on the highway led to a collision after the truck left the area. It may not be immediately clear which truck left the shreds behind. But there are ways to find the negligent truck and trucking company.
If you or another lost control of a vehicle due to a tire shred, a Baltimore car accident lawyer can help. There are paths  to compensation if you were hit by a tire shred or were involved in a wreck because a truck tire was improperly retread. Shredded truck tires create real risks. Tractor-trailer accidents are complex, a skilled attorney knows what to do.
Did you try to swerve away from a large tire truck shred and found yourself needing medical care after the resulting accident? The legal team at Iamele & Iamele, LLP is available to discuss your situation, from car and truck accidents to motorcycle accidents. Our attorneys successfully secure compensation for accident victims in the Baltimore-Washington Metropolitan. We have extensive knowledge and experience in vehicle cases. Contact us today for a free initial consultation.