Should I Request A MD Public Defender?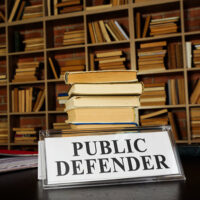 There are hundreds of public defenders in Maryland. These lawyers work for the government and provide legal representation to individuals in a variety of courts, including circuit courts, district courts, juvenile courts, and other hearings and cases. They provide a very important service to the people of Maryland, protecting the rights of individuals who can't afford an attorney.
While you may decide you want a public defender, the reality is you need to qualify for one. Not everyone has access to a public defender. When you submit your request you will fill out an affidavit reporting the state of your finances. If the judge that reviews your request believes you can afford a private criminal lawyer, your request will be denied.
A private Baltimore criminal lawyer is paid for their services by the defendant or family members of the defendant. You can pick and choose your private lawyer. If you are approved for a public defender, one is assigned to your case.
How Much Time Will They Devote to My Case?
Public defenders are highly experienced professionals. Because they are regularly in court, they often have a lot of trial experience and know the judges working in the Baltimore justice system, which can be an advantage. But there are drawbacks to working with a public defender as well, one of the top ones being that public defenders have large caseloads and often can't devote the amount of time to a case that their client would like them to.
But private attorneys have complete control over their workload, so they can take more cases if they have the bandwidth and turn down cases if they feel their time is required to defend their current caseload.
Additionally, when you hire a private lawyer, you are paying them for their services so they will likely share information with you about their past successes, such as past client testimonials. And because your case will not be restricted by workloads or financial concerns, other professionals could be brought in to build your defense. Laboratories could be engaged to perform evidence dests and expert witnesses may provide essential insights, for instance.
Why Should I Choose a Private Attorney?
When deciding on legal counsel, you need to assess your current situation. If you are truly unable to afford a private attorney, a public defender could be the right choice for you. But if you have access to financial resources, a Baltimore criminal lawyer will bring their expertise to your case with their complete attention and focus.
Are you weighing your options when it comes to hiring a criminal defense lawyer? After an arrest in Baltimore, Maryland, connecting with a compassionate attorney who has experience with cases similar to your own is essential. You need a lawyer who has the skills you need and can provide you with solid legal representation throughout the criminal justice process. The attorneys at Iamele & Iamele, LLP will listen closely to your side of the story and share possible paths forward with you. To get your defense started, schedule a free consultation, call 410-779-6160.