Running Red Lights And Traffic Accidents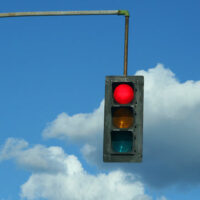 It is one of the most basic traffic rules, a red light means you should stop. But even though everyone knows the rule does not mean everyone follows it. Drivers frequently run red lights, and doing so is incredibly dangerous. Accidents, injuries, and property damage can follow.
Drivers who are late for appointments may think they can go through a red light because they don't see anyone else around, but the reality is there may be another driver who is simply not in the driver's sight. If your car was hit by a reckless driver running a red light, start a conversation with a Baltimore personal injury lawyer about your accident injury expenses. 
Many Drivers Admit to Going Through a Red Light 
A recent report stated that over 50% of vehicular drivers admit to having gone through a red light at some point. The reasons, of course, vary. Some drivers went through a red light because they timed it wrong, thinking the light would still be yellow when they entered the intersection. Others did it intentionally, thinking it wouldn't matter or nobody would notice. While one can be thought of as a mistake and the other purposeful, running a red is always very dangerous.
Distracted driving can also play a role in a driver ignoring traffic signs and signals, including red lights. One or all of the following could have been contributing factors:
Driver was not familiar with the neighborhood and was paying attention to street signs instead of traffic lights.
Attention was focused on looking at a GPS system or mobile device.
Vehicle operator was distracted by fatigue or others in the car or truck.
After an accident caused by a driver running a red light, it is possible the driver will receive traffic citations. Running a red light is illegal, and it is often viewed by law enforcement as a form of aggressive driving. The law takes individuals failing to abide by traffic rules seriously. It is essential for all drivers to follow the rules in order for everyone to stay safe as they travel around Maryland and surrounding states. 
Commercial Vehicles and Failure to Follow Signals 
If your accident involved a commercial driver who ran a red light because they were late, insurance negotiations may be complex. After all, commercial trucking companies often have legal teams ready to push back against the need to payout. You need your own legal professional to protect your financial future. A Baltimore personal injury lawyer can help. No-obligation consultations are available for you to discuss if legal representation is right for you.
Do you have a stack of bills to pay because of an aggressive driver running a red light? An experienced lawyer is familiar with a wide range of accident claims, they will know how much your claim is worth and how to secure the damage recovery you need. Connect with the skilled personal injury attorneys at Iamele & Iamele, LLP in Baltimore, Maryland. To get started, contact us to schedule a no-cost consultation.