Rideshare Services And Accidents In Baltimore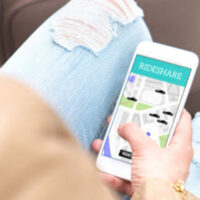 There are many reasons why individuals and groups in Baltimore and DC choose to use rideshare services such as Uber and Lyft. For some older adults, it is an ideal way to get to appointments and shop if they are no longer driving their own vehicles. And young groups who are heading out to a party may turn to a rideshare service so they are able to drink without worrying about who will be the designated driver. While there are many reasons to enjoy Ubers and Lyfts, accident risks are still possible, just as they are in personal vehicles.
After an injury in a rideshare vehicle, the personal injury claim you file could be more complex than you were expecting. The process can have unique considerations. Connect with an experienced Baltimore car accident lawyer to learn how much your claim is worth and how to secure recovery for damages.
Different Vehicle Options, Including UberX and Lyft Lux
There are a variety of rideshare options for individuals who choose to use them. Using an app, the rider selects what type of car they would like and where they are heading. Payment information is stored in the app as well. Some of the car options offered include the following:
Average-sized vehicle, UberX or Lyft RideShare
Large options, UberSUV or Lyft XL
Luxury, high-end rides, UberSELECT or Lyft Lux
Some think of rideshare services as taxi services, but there are differences between them. Training is not the same and insurance coverage is also handled in a different way. Lyft and Uber drivers are self-employed workers, this means in the event of an accident insurance coverage and liability could be addressed in unfamiliar ways.
What to Do After a Baltimore Uber or Lyft Accident
Emotional and frightening events, it can be hard for you to know what to do following a collision. This is true whether the crash happened in a personal car or a rideshare vehicle. When possible, remember to do the following things after a crash.
Seek medical care. Having a medical professional look over your injuries and provide you with a treatment plan is an important part of healing properly and having the injury documented on your medical record. Your medical record can be a valuable form of evidence if you move forward with a personal injury claim.
Alert the authorities. Details of the event should be recorded in a police report.
Gather photos and take notes. If there are things that seem like important pieces of information, such as weather conditions or a hazard that prompted the crash, write it down or document it through photography.
Connect with a legal professional. Talk to a Baltimore car accident lawyer before signing any paperwork offered by an insurance company.
Were you injured while riding in a Baltimore Lyft vehicle? You need an attorney working for you. Contact the legal team at Iamele & Iamele, LLP to understand your medical malpractice claim options. Our attorneys successfully secure compensation for individuals coping with injuries and large healthcare expenses in the Baltimore-Washington Metropolitan area. Contact us today for a free initial consultation.