Reporting Minor Maryland Car Crashes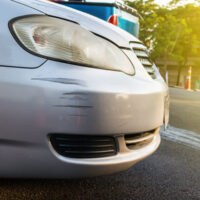 Minor car accidents in the state of Maryland may not require reporting. If you were in a Maryland collision resulting in minor property damages and no passenger injuries, you and the other driver may be able to exchange insurance information and be on your way. When there are temporary damages to a vehicle and both uninjured drivers can drive away, the Maryland accident is likely deemed minor.
Of course if you are injured, you need to be sure the accident is reported. You should also seek medical attention as soon as possible and follow any and all treatment plans given to you by the treating physician. Then connect with a Baltimore personal injury lawyer to secure your interests, protect your rights, and fight for a full compensation package on your behalf.
When to Call Law Enforcement
There are a few factors that go into assessing the severity of an accident. Some of the things that could contribute to the determination of an accident being minor or not include the speed of the vehicles at the time of the crash, the size of the cars or trucks, and if the drivers were behaving recklessly or were under the influence of drugs or alcohol.
Specific situations when Maryland law enforcement should be contacted following an accident include the following:
If a driver or passenger was injured in the crash.
A vehicle needed to be towed from the accident site.
Arguments around why the accident occurred break out.
A driver left the scene.
One or more drivers do not have a valid license.
Someone was under the influence.
If you feel maybe you should call the police after an accident but you aren't sure, make the call. There are times when people are unable to assess the severity of the situation clearly or are not feeling the full impact of an injury because of an adrenaline rush. Having a police report in place can help you prove your case later, if needed.
Stop Driving and Note Details
In the immediate aftermath of a minor Maryland crash, you need to stop your vehicle. Continuing to drive after a collision could lead to a criminal charge. Next, be sure everyone is safe, then exchange information with others involved in the event. Writing down key details before your memory of the event fades can also be helpful during the claims process later.
Support is available to help you after any accident, minor or severe. A reputable Baltimore personal injury lawyer can provide you with the legal guidance you need and work to build a successful claim on your behalf.
Do you have questions about your accident because you are not sure if it is considered minor or not? Set up a meeting with one of the attorneys at Iamele & Iamele, LLP. Our lawyers are committed to helping clients through the personal injury claims process. This means that once you share your story, an attorney can inform you of next steps, deadlines, and what level of damage recovery you could expect. Call 410-779-6160 today to schedule your no-cost consultation.