Recovering from Broken Bones In Maryland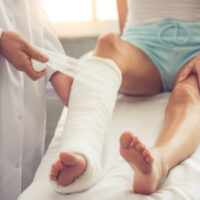 There are many ways that individuals can experience a fracture, from workplace accidents to car collisions. While everyone is at risk of a broken bone, there are individuals who are more prone to this type of injury, older adults for example. As people age, their bones can become more brittle and lead to more complex health issues.
If you are recovering from a fracture and another was negligent, you need to connect with a Baltimore personal injury lawyer.
Different Types of Fractures
Bones are an important part of the body. They support the shape of the body, protect organs, and are the framework for muscles. People are able to run, walk, and jump because of muscles attached to bones. While the body is often able to heal from injuries, including recovering from broken bones, medical care is necessary in many instances.
Distinct types of broken bones:
Simple fracture. When a break, hairline or stress for instance, does not hurt surrounding tissue or break skin.
Open fracture. Bone break is severe enough to break skin.
Complete fracture. A bone is broken into parts.
Incomplete fracture. Break did not create distinct pieces of bone.
How to heal a bone fracture depends on the injury. Some bone breaks will heal when they are given time to restore. In these examples, the use of that part of the body will likely be reduced during recovery. There are also times when surgery is needed and plates and screws are used to support the person's skeleton.
Many Accidents Can Result In Bone Breaks
Some fractures occur due to workplace accidents. Construction workers may experience bone breaks, along with any other worker who deals with machinery and risk is part of their daily profession.
Of course, there are car accident injuries as well. This can happen when an individual's body is forcibly pushed against a dashboard. Or when the metal of a vehicle crunches and impacts a person. Slip and fall events can lead to harm, too. There are examples of people who have broken their backs when they lost their footing due to negligence on the part of the property owner.
Many areas of the body can sustain broken bones. Some of the places where bone fractures occur include arms, wrists, clavicles, hips, feet, ankles, hands, toes, fingers, and legs. The severity of the injury depends on the person's health history and how the accident happened. Healing time frames can be months, years, or lifelong.
If you or someone you love sustained a fracture because another was negligent, it is important you protect your rights. When an individual has to pay for healthcare expenses, which can be extremely high, the bill amounts may be unmanageable. To secure a financial settlement, work with a Baltimore personal injury lawyer.
Are you or someone in your family healing from a complete, open, or other type of fracture? Talk to the legal team at Iamele & Iamele, LLP. With years of experience, our attorneys successfully secure compensation for personal injury victims in the Baltimore-Washington Metropolitan area. Contact us today for a free initial consultation.
https://www.iamelelawfirmbaltimore.com/car-collisions-happen-when-tires-fail/