Neck Sprains, Whiplash Injuries, And Fractures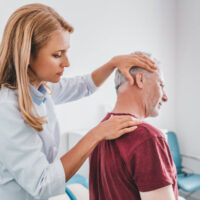 The area of your spine commonly referred to as your neck is your cervical spine. This area of the body consists of seven vertebrae bones. These bones are specific to the neck. The first two vertebrae are called atlas and axis and have unique shapes, one that ensures your head can be held upright while the other allows side-to-side motion. The other five vertebrae have shapes more simpler to the rest of the vertebrae in the spine.
Any spinal harm, whether it is in your back, neck, or both, can lead to pain and long recovery times. If you were hurt in a Maryland accident, seeking medical care as soon as you can is the top priority. Next, talk to a Baltimore personal injury lawyer about financial recovery options to get your healthcare needs paid and allow you to access specialized care, if required.
Different Types of Cervical Spine Injuries
Often neck injuries are not standalone injuries. Because the neck is connected to joints, ligaments, and bones that connect to other areas of the body, many find they are suffering from neck injuries, back injuries, and other health issues.
When an individual's neck is overstretched, the ligaments in the neck can be harmed, leading to swelling, tenderness, and pain. Minor sprains may be able to heal at home with the assistance of ice and pain medication while more serious sprains often need immobilization.
Bone breaks. Neck fractures are extremely serious and surgery could be required. Immobilization could also be part of a treatment plan. While anyone can sustain a neck fracture, older adults are even more susceptible.
When a person's body is suddenly snapped back and forth, hyperextension injuries are possible, which are commonly referred to as whiplash injuries. Indicators of whiplash include experiencing dizziness, stiffness, pain, and discomfort.
It is important to recognize that some neck injury symptoms immediately appear while others take days to surface. Seeing a healthcare provider even when you are unsure if you are injured or initially believe your harm is not severe is advised. There could be a larger neck and back issue you are not aware of.
Attorneys and Neck Injury Settlements
Attorneys who have been working in personal injury law for years have the experience needed to fight for a full damage recovery settlement. Neck injuries range in severity, and compensation strategies will depend on the details of the accident. Talk through the possibilities for financial compensation with a skilled Baltimore personal injury lawyer to protect your family finances in the months and years following a car accident or slip and fall event.
Have you been diagnosed with a neck injury after a Maryland accident? Whether the harm was sustained in a car wreck or slip and fall event, talk to the skilled attorneys at Iamele & Iamele, LLP about next steps. Legal representatives can guide you through the damage recovery process, whether your injury is minor or severe. Contact us to get the process started, schedule your free initial appointment today.