My Parked Car Was Hit When I Wasn't Around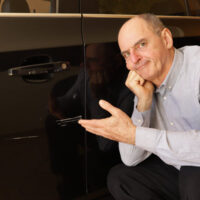 When you walk out of a grocery store or are leaving an office, you assume you will find your car in the same spot, in the same condition. Unfortunately, that is not always the case. Sometimes parked cars are hit, and damaged, only to have the driver who did the damage leave the scene without talking to anyone or leaving a note.
High expenses are possible when a parked car is hit, there could be a lot of body work needed to restore the vehicle to the condition it was in prior to the accident. Even when a person leaves the scene, there could be a path to compensation after being struck in Maryland or the DC area, talk to a Baltimore car accident lawyer to learn more.
Maryland Law Requires Drivers to Provide Information
According to Maryland law, when an accident results in properly damage, physical injury, or death, drivers are required to provide information, including the following:
Name and address
Insurance company information
License plate number
If your car was damaged and the person who struck your car has fled the scene, you can report the crash on your own, either through getting the attention of a police officer who is nearby or going to a local police department to file a report.
Next steps would be to gather evidence yourself. You can take photos of your damaged vehicle and the location where the damage occurred. If possible, you can also ask local businesses or individuals in the area if they witnessed the accident. Getting an auto repair quote from a reputable shop so the level of damage is documented can also be helpful.
A skilled attorney may be able to find the person who did the damage and hold them liable. Steps they could take include making written requests for surveillance camera footage or using other investigative techniques to discover what type of car hit your vehicle and who was driving it when the accident happened.
Negotiating with Your Own Insurance
If you have underinsured coverage, there may be financial compensation available from your own insurance company. But just because it is your own policy does not mean they will immediately offer you a large settlement.
In order to negotiate a full and fair package,  connect with a Baltimore car accident lawyer. A skilled attorney can assess the details of the situation and determine the worth of your claim. Having a wrecked car and facing high auto repair bills can be stressful and overwhelming, but there are solutions available. Legal professionals create pathways to resolution everyday.
Have you walked out of a business only to find your car damaged in the parking lot? In order to understand all of your damage recovery options, you need an attorney working for you. Contact the legal team at Iamele & Iamele, LLP for help. Our attorneys successfully secure compensation for individuals coping with injuries and large healthcare expenses in the Baltimore-Washington Metropolitan area. Contact us today for a free initial consultation.