Motorcycle Crash Injuries Include Biker's Arm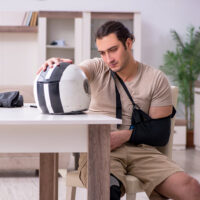 Because motorcycle riders are not protected by the frame of a vehicle, many wear safety gear to protect themselves in the event of a crash. Helmets protect heads from facial and brain injuries. Other common motorcycle accident injuries are biker's arm and road rash. There have been examples of padded clothing reducing the extent of these injuries.
After a motorcycle crash, whether it occurred because of an impact with another vehicle or loss of control because of a mechanical malfunction, connect with a Baltimore personal injury lawyer to understand your rights. If another person or party was negligent, a settlement may be possible.
Biker's Arm Due to Impact
Biker's arm injuries refer to types of nerve damage. It can happen when a person's arm receives most of the force in a fall or when the motorcycle itself falls on top of an arm. The damage is not always readily felt. The symptoms of biker's arm may not surface for days or weeks following the crash. Always see a doctor after an accident. Injuries need to be assessed and treated right away.
Some nerve damage symptoms connected to biker's arm:
Ulnar nerve. Loss of finger or hand sensation and hand weakness.
Median nerve. Flexing digits and hands may be difficult.
Radial nerve. Sharp pain in fingers, back of hand and triceps can also be affected.
Of course, each situation is unique. You could have a variety of symptoms because there are several areas of nerve damage that need to be treated. Mobility issues and sharp pain are often connected to nerve damage. Issues can persist so long that individuals may lose their jobs because they are no longer able to perform the work tasks they were responsible for prior to the collision. Nerve damage can be temporary or permanent.
Road Rash Is Also Possible
If the rider or passenger lands in a way that their skin scrapes against pavement or rocks, road rash could result. Depending on the force and speed of the crash, road rash can be minor or severe. Serious road rash patients can experience a lot of pain and may face expensive, ongoing medical treatments if there is disfigurement or scarring.
Pain, suffering, and limited mobility can make it impossible for you to live the life you lived prior to a collision. If you would like to learn about what damage recovery options you have, connect with a Baltimore personal injury lawyer. While a monetary settlement can't erase emotional and physical pain, it can provide access to treatments and fortify your family financially when faced with a slew of medical bills and fees.
Did you sustain a road rash injury or nerve damage in a Baltimore motorcycle accident? You need an attorney working for you. Contact the legal team at Iamele & Iamele, LLP to understand what damage recovery options are available. Our attorneys successfully secure compensation for individuals coping with injuries and large healthcare expenses in the Baltimore-Washington Metropolitan area. Contact us today for a free initial consultation.