Misclassified Construction Workers And Compensation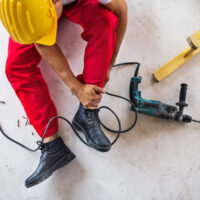 Many professional fields carry injury dangers, and one of them is construction. When a construction worker is hurt on the job, it is common for medical care and time off work to follow. But who pays for the doctor bills? And how can that person afford their day-to-day life once their paychecks stop?
In many circumstances, Maryland workers' compensation benefits will kick in to support the construction worker as they access the care they need. But there are times, unfortunately, when a company or insurance company denies a person's right to coverage. For example, they could assert they do not have any financial responsibility because the worker was not technically an employee. Misclassification of employees is pervasive, but a Baltimore workers' compensation lawyer has the skills you need to fight for your right to compensation.
Independent Contractors and Established Employees
One of the first steps in determining workers' comp eligibility for construction workers or individuals who are working in other industries is outlining the employment relationship. If a company asserts that the person is not a covered employee, they are likely suggesting the individual was performing a task as an independent contractor.
The level of control an employer has over a worker is often used to assess whether they are an employee or a contractual hire. All of the following questions will need to be answered.
Is it in the employer's authority to choose and hire the individual?
Are wages and any other forms of compensation set by the employer?
Does the employer have the power to control the conduct of the worker?
Is the job that the worker is performing an established, ongoing part of the company's business?
And misclassifying an employee is not the only way insurance representatives and company management could use to sidestep their payment responsibilities. They could also assert a worker is not as injured as they are claiming to be or even question whether the harm was sustained at the workplace.
Seasoned Attorneys Can Help
When you hire a Baltimore workers' compensation lawyer, you will have years of experience and training on your side. There are a lot of different ways to establish that a worker has been misclassified, documentation to support your right to financial recovery.
Each industry has its own regulations and guidelines. An injured agricultural worker may have a case that has specific needs that do not apply to the claim of a hurt construction worker, for instance. Connecting with an attorney is the most efficient way for you to access the knowledge you need to secure the outcome you want.
Were you hurt working on a Baltimore construction site? To evaluate your compensation options, connect with a legal professional. Contact the attorneys at Iamele & Iamele, LLP as soon as possible to get your path to financial recovery started. Our lawyers will fight for a fair settlement, we provide you with the legal support you need while recovering from a workplace illness or injury. Contact us today for a free consultation.