Medical Malpractice Leads to $1 Million Award for Maryland Cancer Patient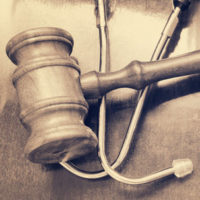 After her doctor neglected to disclose potential tumors, a late-stage cancer patient from Maryland received a $1 million award in her medical malpractice case, as reported by Outpatient Surgery Magazine.
During a 2011 exam, a gynecologist discovered tumors in the patient's uterus. The gynecologist sent samples along to a pathologist for review. After examining the samples, the pathologist found potentially malignant tumors and suggested a follow-up examination by the gynecologist. But the gynecologist failed to discuss this development with the patient or conduct any follow-up examinations.
Fast forward to 2014, and the patient received a cancer diagnosis after undergoing separate medical tests. Those tests revealed that the cancer spread from the uterus to the lungs, resulting in sarcoma.
After deliberating on the arguments and evidence, the jury determined that there was negligence on the part of the gynecologist. By failing to disclose the presence of tumors in the patient's uterus or suggesting follow-up examination, the gynecologist committed medical malpractice. The jury awarded the patient $1 million. But the Maryland limit on noneconomic damages dropped the award to $695,000.
Considering the implications of this news story, it feels like a great time to review Maryland policies concerning medical malpractice and noneconomic damages.
What is the Maryland Definition for Medical Malpractice?
Medical malpractice is a type of personal injury claim that deals with the negligence of doctors and other medical professionals. Essentially, medical malpractice allows victims to receive compensation for the errors of doctors and medical professionals.
That being said, it is important to note that only certain errors rise to the level of medical malpractice. For example, instances of human error that do not result in harm to the patient rarely qualify as medical malpractice. But if a doctor or medical professional acts outside of established procedure – and as a direct result, the patient suffers harm or injury – then the patient may be able to sue for medical malpractice.
What is the Maryland Approach to Noneconomic Damages? 
In all personal injury claims, including medical malpractice, Maryland sets a limit on the amount of noneconomic damages a victim can recover. Noneconomic damages refer to pain, suffering, emotional distress and other forms of harm that are difficult to quantify. Unlike medical expenses and lost wages, it is much more of a challenge to place an accurate value on pain and suffering.
As a result, the Maryland legislature decided to place limits on the amount of noneconomic damages a victim can recover. Maryland adjusts the limit on a yearly basis.
Do You Need Legal Help from a Proficient Personal Injury Attorney? 
Medical malpractice and other aspects of personal injury require a deft touch. At Iamele & Iamele, LLP in Maryland, our legal team is available to help you today. Contact us for immediate assistance.
Resource:
outpatientsurgery.net/newsletter/eweekly/2017/10/03/stage-4-cancer-patient-awarded-1-million-for-ob-gyn-s-negligence