Medical Malpractice In Maryland And A Breach Of Duty Of Care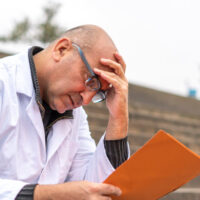 When you hear the word negligence in a medical malpractice case, you likely understand that it is referring to failing to take proper care, on the part of a doctor, nurse, or other medical professional. It could even be connected to a medical facility. When you hear the term breach of duty of care, it is also connected to medical negligence, accidental or intentional.
If you or someone you love is suffering because of a medical mistake or wrongdoing by a medical facility, talk to a professional to determine what options you have regarding healing and compensation. Medical malpractice law can be complex, discuss the details of your situation with an experienced Baltimore medical malpractice lawyer.
Examples of Breach of Duty of Care
Medical professionals and health centers that provide care have a responsibility to provide a level of care that is appropriate. It needs to be a level of care that could be accessed at a similar facility or by another medical professional in the same region.
Some examples of medical negligence, breaches of duty of care, include the following:
Not diagnosing a health issue properly.
Prescribing the wrong medication or the wrong dosage.
Not reviewing a patient's current conditions or medications.
Not ordering the proper tests or labs.
Reading lab or test results incorrectly.
Failing to share the risks and dangers of a procedure with a patient.
Performing the wrong surgery.
Of course, there are times when a medical procedure does not produce the results a person and their family hoped for, but that is not a breach of duty of care. In order for a breach to be involved in a medical malpractice claim, there needs to be proof that irresponsibility led to the illness or injury.
A lawyer knows how to secure the evidence and documentation needed. They may obtain medical records, assess past communications, and compile expert testimony, for instance. Evidence is an important piece of the puzzle. In order for a court to rule favorably, for you, you need to secure the correct proof.
Settlements for Ongoing Care and Emotional Distress
When there is a breach of duty of care, a person can find themselves emotionally upset, in need of ongoing treatments, and unable to work. All of these considerations require compensation. Medical expenses are high, and facing them when someone does not have an income and is emotionally distraught is overwhelming. A lawyer can help.
A seasoned Baltimore medical malpractice lawyer can assess the details of your situation and advise you on next steps. They may know experts they can immediately contact, meaning you can secure a settlement quickly and efficiently.
Do you believe a breach of duty of care led to your illness or injury? You need an attorney working for you. Contact the legal team at Iamele & Iamele, LLP to understand your medical malpractice claim options. Our attorneys successfully secure compensation for individuals coping with injuries and large healthcare expenses in the Baltimore-Washington Metropolitan area. Contact us today for a free initial consultation.