Maryland Wrongful Death Lawsuit Leads to $1.67 Million in Damages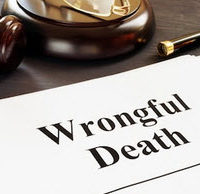 A Maryland jury awarded a Maryland widow $1.67 million in damages in a wrongful death lawsuit, reported The Daily Record. The verdict arrived this September in the Harford County Circuit Court — more than three years after a 57-year-old man died from gastrointestinal issues.
This case originated back in 2014. In late February of that year, the Harford Memorial Hospital admitted the 57-year-old Maryland man for severe stomach pain. A doctor with gastrointestinal expertise initially diagnosed the man with a rare disease that causes a build-up in the intestines.
But the doctor misdiagnosed the man with a testing allergy. Moreover, the doctor cancelled further testing, effectively eliminating any treatment possibilities for the man's rare disease. As a result, the man was unable to receive immediate care for his rare gastrointestinal disease.
After leaving Harford Memorial Hospital, the Maryland man checked himself into a mental care facility for psychiatric treatment. Before he could receive substantial treatment, however, the man's condition worsened. Approximately two days later, the man passed out after vomiting blood.
First responders rushed the man to the University of Maryland Medical Center for emergency medical treatment. The operating physicians located approximately 20 feet of blocked intestine, representing a severe and life-threatening condition. Despite their best efforts, the operating physicians were unable to save the man's life.
After consulting with an attorney, the man's widow decided to file a wrongful death lawsuit in Harford County Circuit Court on June 27, 2017, resulting in case #12C17001638. After several months of court proceedings and six days of trial, the jury began deliberations.
Approximately three hours later, the jury delivered their verdict in favor of the man's widow. In terms of damages, there were three different components:
Pain and Suffering — The jury awarded $750,000;
Loss of Care, Comfort and Society — The jury awarded $500,000; and
Economic Damages — The jury awarded $420,000.
That being said, the damages above may be subject to the Maryland cap on non-economic damages. In medical malpractice cases and other personal injury lawsuits, Maryland law imposes a limit on certain types of legal damages.
Concerning economic damages — such as medical bills or lost wages — there is no limit on a plaintiff's ability to recover damages. But that is not the case for non-economic damages, such as pain and suffering or loss of care, comfort and society. Given the abstract nature of non-economic damages, Maryland law limits the amount a plaintiff can recover.
In the present case, the Maryland cap on non-economic damages could remove approximately $500,000 from the jury verdict. If that happens, the man's widow should expect a total damages award of approximately $1.18 million.
Let Us Help You Today
If you are considering whether to file a wrongful death lawsuit in Maryland, it can be singularly valuable to contact an established personal injury lawyer. The lawyers at Iamele & Iamele, LLP in Baltimore, Maryland, have the experience and knowledge required to handle various personal injury claims in Maryland, including wrongful death lawsuits. If you need legal help, contact us today for a free initial consultation.
Resource:
thefreelibrary.com/Harford+Co.+jury+awards+$1.67M+in+wrongful+death+case.-a0557272983