Maryland Storms And Vehicular Accidents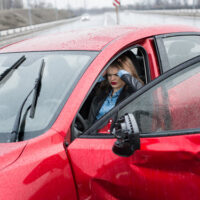 Storms create vehicular accident risks. Weather-related crashes are ones that are a result of snow, sleet, rain, fog, wind, or another weather condition, such as wet pavement. According to one report, wet roads are responsible for over 70% of weather-related collisions. If possible, avoid storm risks and delay your driving trip when weather is bad or you hear of a coming storm. Of course, sometimes the weather shifts when you are already driving. In those circumstances, adjust your driving behaviors to keep yourself and others on the road safe.
Did you suffer a serious injury in a weather-related crash? If you are unsure what your rights are and how you can recover compensation, connect with a Baltimore car accident lawyer. When another was negligent, an insurance settlement or lawsuit may be the path to financial relief.
Wet Pavement Can Lead to Reduced Traction
When pavement is wet, it can make it difficult for a driver to handle their vehicle because, for example, braking and stopping distances may be different. This is only one danger of driving in storms, others include the following:
Strong wind gusts. Wind can impact control, sometimes pushing a car off the road or into another traffic lane.
Lightning flashes. Temporary blindness is possible when there are flashes of lightning in a dark sky.
Standing water and puddles. Hydroplaning is a danger and what may first appear to be a small puddle could be a larger road risk.
Hard to see. Dark conditions and large amounts of rain can result in low visibility.
Behavior of other drivers. If others on the road do not know how to drive safely in stormy conditions, they can be a danger to others on the road.
Slowing down is one of the best things you can do when bad weather strikes. When experts decide on speed limits, they are coming up with a number connected to optimal driving conditions. When conditions deteriorate, reducing speed is essential. It is better to be a bit late to an appointment than to be involved in an accident.
Headlights and Visibility
Also, be sure your headlights are illuminated when storms darken the sky. Many vehicles now feature adaptive headlights that respond to a change in light conditions on their own, but there are still a lot of vehicles on the road that require the driver to turn the headlights on. In times of low visibility, lights are an important way to stay safe.
Of course, even when taking precautions, accidents are possible. If you were hurt in a crash on a stormy day, talk to a Baltimore car accident lawyer.
Were you involved in a Maryland car accident during a stormy day? Do not sign a settlement agreement until you understand all of your damage recovery options. You need an attorney working for you. Contact the legal team at Iamele & Iamele, LLP to understand your options. Our attorneys successfully secure compensation for individuals coping with injuries in the Baltimore-Washington Metropolitan area. Contact us today for a free initial consultation.