Maryland Rental Car Accident Injuries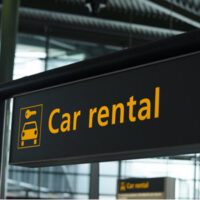 Plenty of Americans, including those living in Maryland, opt to use rental cars as a form of transportation. Some rent cars when they are vacationing while others use them for business trips. Rental vehicles can also be a great option for individuals who are having their own automobile repaired or need a different type of vehicle than they own because of a personal or professional commitment. But anytime drivers are on the roads, in rental cars or their own personal vehicle, it is possible that an accident will occur.
If you sustained injuries in an accident because another driver was recklessly operating a rental vehicle, or if you were driving a rental car at the time of a crash, you may be wondering who is responsible for your injury expenses and other accident fees. To learn about what compensatory damages could be available to you following a Maryland car accident, talk to a Baltimore personal injury lawyer.
Driver Error and Car Malfunctions
In most instances, an accident can be attributed to driver error. Rental car accidents could be due to a tourist not being familiar with Baltimore, for example. But there are times, although less common, when accidents are the result of a vehicle not performing as it should.
It is very difficult to hold a rental car company responsible for accident expenses because they usually have robust legal teams that have taken all the available steps to shield themselves from liability concerns. But, it is their company's responsibility to maintain a safe fleet of vehicles. If an automobile malfunctioned because it was not regularly inspected and maintained, there could be a path to financial recovery from the car rental company.
When drivers are at fault, settlement funds could be accessed from the driver's personal insurance coverage or the at-fault driver may pay out of pocket. The details of how funds will be distributed will depend on the details of the event and the level of harm sustained.
Work with a Maryland Lawyer
Whether your car accident involved rental cars, personal vehicles, commercial trucks, or motorcycles, talking with a Baltimore personal injury lawyer as soon as possible is a way to protect your financial future. It is possible you will be contacted by a rental car company or insurance adjuster and be offered a settlement amount. Be sure you talk to an attorney to be sure the amount is acceptable, it is possible the offer is far too low.
Were you driving a Baltimore rental car when an accident took place? It may be confusing to determine who is responsible for accident expenses, but a dependable Maryland lawyer has the talent and skills you need. After a rental car collision in the Baltimore-Washington Metropolitan area, contact the legal team at Iamele & Iamele, LLP. Our seasoned legal team has the experience you need, we will strengthen your claim and push back on low settlement offers. We will fight for your rights after a Maryland crash. Contact us today to schedule your free initial consultation.