Maryland Motorcycle Insurance Requirements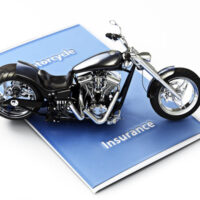 There are over 100,000 registered motorcycles in the state of Maryland. All of these individuals and other motorcycle enthusiasts are familiar with the costs of buying a motorcycle. They can be expensive, but it is important to note that buying a bike is only the first expense, you will need to pay for insurance as well.
Unfortunately, with so many motorcycles on Maryland roadways, there are times when accidents happen and injuries can be serious. If you were involved in an accident, do not agree to a settlement offer proposed by an insurance company without talking to a Baltimore car accident lawyer first. Insurance companies have lawyers on their staff, you need a legal professional on your side.
Mandatory Minimums for Motorcyclists
According to Maryland law, motorcyclists are required to have motorcycle insurance. The mandatory minimums are typically the following:
Individual bodily injury, $30,000
Bodily injury for more than one person, $60,000
Property damage, $15,000
The definition of a motorcycle is related to the engine size and the amount of wheels.
Penalties for not carrying motorcycle insurance are in place. If you do not have proof of insurance, you will not be able to register your motorcycle. Without registration, it is not possible to secure Maryland license plates. There are fines for driving without insurance as well.
The premium of your policy will depend on a variety of factors. Sometimes motorcycle insurance is comparatively higher than car insurance because there are higher risks involved. Motorcycle accidents can happen quickly and severe injuries and fatalities are possible.
But, even though motorcycle operators may face higher rates, it will likely be less than your car insurance simply because it is common for individuals to use their car as their primary means of transportation and insurance premiums can be connected to vehicular use.
Motorcycle Accidents and Personal Injury Claims
While motorcycle operators are often perceived as risk takers, there are many cases of motorcycle accidents where another driver was negligent. If a car or truck does not see a motorcycle and fails to yield, it could be determined they were the at-fault driver. Each year, accidents involving bikes happen and the motorcyclist was not to blame.
If you sustained injuries in a Maryland motorcycle accident and are unsure how to access the settlement you need to move past the event, talk to a Baltimore car accident lawyer. Medical expenses can be high. Plus, any emotional distress you have experienced could be added to the value of your claim. You have rights, do not accept a low-ball offer when there is a path to a more appropriate level of compensation.
Do you need a lawyer to help you navigate insurance negotiations? Do not sign until you understand all of your damage recovery options. You need an attorney working for you. Contact the legal team at Iamele & Iamele, LLP to understand your claim options. Our attorneys successfully secure compensation for individuals coping with injuries and expenses in the Baltimore-Washington Metropolitan area. Contact us today for a free initial consultation.