Maryland Men Sustain Severe Injuries in Car Accident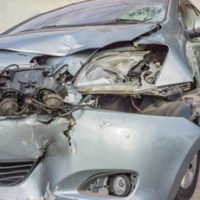 Two Maryland men suffered serious injuries in a car accident on I-83, as reported by Fox Baltimore. The driver sustained life-threatening injuries, while the sole passenger sustained severe personal injury.
Maryland State Police arrived on the scene near Padonia Road in Timonium to find a 2005 Nissan Pathfinder overturned in between lanes. Authorities closed down all lanes and diverted traffic to canvass the scene and begin their investigation.
After taking witness statements and conducting an initial investigation, Police believe that the vehicle veered from the road and slid on gravel present near the median. The driver tried to course correct on the gravel unsuccessfully. Then the vehicle flipped over and came to a stop upside down in between lanes one and two.
Authorities rushed the driver and passenger to Sinai Hospital for treatment. After conducting initial treatment, hospital staff believe that both men will survive.
While the accident victims recover from their injuries, a natural question arises as to liability. Who is responsible for the medical bills and other expenses associated with this car accident? That is the very question we will explore below.
How Does Maryland Handle Liability for Car Accidents? 
In order to recover medical bills or other expenses related to a car collision in Maryland, the victim must generally prove a case of negligence. In basic terms, the victim must show that another party caused the victim's injury by acting in a careless manner.
To get a better idea of what behavior may be considered careless in the driving context, please find below a few examples:
Exceeding the speed limit or driving unreasonably fast in poor conditions;
Neglecting to account for other vehicles and traffic;
Disregarding traffic control devices including red lights, stop signs or turn guidelines;
Changing lanes in reckless fashion;
Driving a vehicle while intoxicated or under the influence of narcotics;
Driving a vehicle after ingesting prescription medications that alter alertness;
Using a cellphone or texting while driving; or
Encroaching upon other lawful roadway users including bicyclists and pedestrians.
If a driver engages in any of the behaviors listed above, then the driver may be liable for harm caused to people or property. That being said, it is important to remember that the list above is not exhaustive. There are many factors that can contribute to liability for a car collision.
Do You Have Questions for a Knowledgeable Personal Injury Attorney? 
Whether you are dealing with a car accident or other aspects of personal injury law, the process can be overwhelming. As medical bills and lost wages pile up, stress levels rise accordingly. Toss in the technical nature of the law, and it can be a challenge to know where to start. Thankfully a knowledgeable personal injury attorney can help you sort out the details and move toward a positive outcome.
Based Baltimore, Maryland, the attorneys at Iamele & Iamele, LLP have long-standing experience with car accidents and other aspects of personal injury law. If you have legal questions, please feel free to contact us immediately for a free initial consultation.
Resource:
foxbaltimore.com/news/local/two-people-seriously-injured-in-i-83-collision-in-timonium