Maryland Injures And Recreational Vehicle Crashes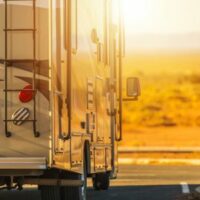 Sometimes called RVs, recreational vehicles are large vehicles that have living accommodations. Some RVs are motorhomes with living rooms and working kitchens, others are truck campers. RVs are popular choices for families and individuals who want to take a relaxing getaway to an area campground or other tourist area. RVs can be a way to build lasting memories, but they can also be dangerous.
Because RVs are large, disastrous accidents are possible. Risks can sometimes be elevated by inexperienced drivers as well. After all, vacation vehicles may only be used once or twice a year. If you or someone you care about was injured in a Maryland RV crash, connect with a Baltimore car accident lawyer.
Maryland Laws and RVs
Each state has rules around licensing. In the state of Maryland, you do not need a special license if your RV is under a certain weight, specifically under 26,000 pounds. For vehicles this size, an operator simply needs a standard driver's license. If the recreational vehicle is larger, you will need another type of license.
Vehicles of any size can be involved in accidents that result in injuries, but the size and weight of recreational vehicles have unique risks. For example, many RVs contain generators, fuel, and appliances that can tip and be disastrous during a collision.
Common reasons for RV accidents:
Propane tanks lead to fire risks
Vehicle is overloaded or not balanced properly
Passengers and drivers are too relaxed and distracted
Rollover and runaway trailer dangers
Operator inexperienced or fails to compensate for blind spots
Taking precaution before heading out on an RV adventure is recommended for a safe journey. This includes maintenance and a prepared, trained driver.
What to Do Following a Maryland RV Crash
It can be hard to think clearly in the aftermath of any vehicular accident, including those that involve recreational vehicles. But after any accident, it is important to have your injuries assessed by a medical professional. Going to a hospital or urgent care center immediately means you can have a proper treatment plan for healing in place and there will be documentation connecting your injury to the accident if you need it for a later insurance claim.
Do not talk about your side of the story of the details of the event with insurance company representatives before talking to an attorney. A lawyer working for you will ensure you receive a full, fair settlement amount.
RV accident injures are possible for a variety of reasons, including negligent RV drivers and vehicular defects. Compensation is possible when another was negligent. Settlement awards may be possible through an insurance claim or a personal injury lawsuit. Talk to a Baltimore car accident lawyer to find out what is the best path forward for you and your family.
Were you in an RV accident in the state of Maryland? If you have high medical expenses, connect with a skilled attorney who can navigate complex claims. Have an experienced attorney work for you. Reach out to the legal team at Iamele & Iamele, LLP. With years of personal injury claim knowledge, our attorneys can help. Contact us today for a free initial consultation.