Maryland And Speeding Drivers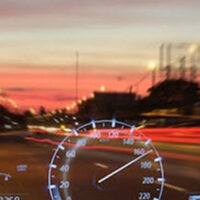 According to a recent report, Maryland drivers participate in many behaviors that make it difficult to drive safely, including poorly performed turns and speeding. Speeding is incredibly risky and many drivers do not realize how dangerous the behavior can be to themselves and other drivers.
Whether you were struck by a person who was intentionally speeding or were in a Baltimore accident with a driver who simply didn't realize they were traveling above the posted limit, you could be facing high expenses. To discuss solutions for the many bills you are juggling, connect with a skilled Baltimore car accident lawyer.
Speeding Tickets and Reckless Driving Charges
When drivers are speeding and are pulled over by law enforcement, it is possible they will receive a speeding ticket. A reckless driving charge is also possible. It is essential to drive the correct speed to keep yourself and everyone else on the road safe. Additionally, speeding can lead to high expenses for the offender, including jail time and large fines.
If you were speeding in Baltimore or the DC area, the state will need to prove you were traveling too fast beyond a reasonable doubt. A skilled attorney can look over your documentation and let you know what options are possible and how to protect your future.
To follow the law, cars need to follow absolute speed limits. Additionally, drivers need to adjust their speeds when needed due to a change in driving conditions.
Absolute speed limits in Maryland:
15 mph in Baltimore alleys
30 mph on undivided highways in residential areas and business districts
55 mph when traveling out of residential areas on divided highways
Because speeding is so dangerous, a speeding driver could face a reckless driving charge. A reckless driver could be held responsible for accident damages as well.
Car Crash Insurance Negotiations Can Be Complex
Obtaining the settlement you deserve isn't always easy, but there are things you can do to increase your odds of moving forward with confidence. For example, keeping organized records of documentation is helpful. This could include copies of the police report, doctor visits, car repair expenses, and anything else related to the crash.
A Baltimore car accident lawyer can look over all the documentation you have and determine the worth of your claim. Then, they can negotiate for a full and fair compensation on your behalf. But in order for a legal professional to push back on low-ball offers, it is essential you do not sign any agreements introduced by an insurance company early in the process. Before signing, talk to an attorney. Maybe the offer is fair, but it is also possible the documentation you have would support a much higher financial figure.
Was a speeding driver responsible for the Maryland accident that caused you pain and suffering? To move toward a compensation package, talk to a legal professional. Contact the legal team at Iamele & Iamele, LLP to understand your personal injury claim options. Our attorneys successfully secure compensation for individuals coping with injuries and large healthcare expenses in the Baltimore-Washington Metropolitan area. Contact us today for a free initial consultation.