Maryland Accident Injuries And Negligence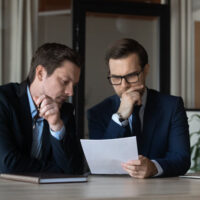 In the field of personal injury law, a person or party could be deemed negligent if they intentionally caused harm to another or they failed to prevent an injury. Naturally, determining negligence is not always clear. Often the details of the situation need to be assessed and then whether a person took a reasonable action to stop an injury can be determined. This is sometimes referred to as a standard of care.
Many factors are considered when a dispute leads to a personal injury lawsuit. For example, when you meet with a Baltimore personal injury lawyer, they will ask about how the accident occurred and if there was any relationship between the parties before the accident injury. Being honest with your lawyer is important. Once your legal team is familiar with the facts they will inform you of the value of your claim and share next steps in the process with you.
Maryland and the Rules of Contributory Negligence
Most states follow comparative negligence rules, but Maryland and a few others are contributory negligence states. Essentially, this means if a plaintiff carries any level of fault for an accident they will not secure damages. In comparative negligence rules, they would receive a percentage related to their level of fault.
Some have said the reasons why Maryland is a contributory negligence state are connected to keeping auto insurance rates low and maintaining an efficient legal system, but many accident victims feel contributory negligence rules are outdated and unfair.
But there are some exceptions to the contributory negligence rule. Do not assume you know the outcome of a legal action before it begins. Discussing your situation with an experienced lawyer means you will fully understand what options are available to you following a collision.
A Lawyer Can Negotiate an Insurance Settlement for You
The majority of personal injury expenses are paid through insurance settlements and do not require going to court. If you were in a car accident, know that Maryland is a tort state. Essentially, this means your claim will be filed and negotiated with the at-fault vehicle operator's insurance.
It is common for the first offer from an insurance company to be lower than what your claim is worth. You have a right to a financial figure that will fully pay for the cost of the harm sustained. Skilled lawyers have a track record of negotiating with the insurance claims adjuster and recovering a full compensation amount.
If you believe another was negligent and you or someone you care about was injured as a result, connect with a Baltimore personal injury lawyer to discuss next steps. Because personal injury attorneys negotiate with insurance claims adjusters and build strong lawsuits regularly, they understand how to land the settlement amount you need to fully heal financially.
Are you wondering who is the negligent party after a Baltimore traffic collision? An experienced lawyer can help. When you share your story with the skilled personal injury attorneys at Iamele & Iamele, LLP in Baltimore, Maryland, your legal questions will be answered and a path forward can be strategized. To get started, contact us today for a free consultation.