Legal Review of Maryland Medical Malpractice Claims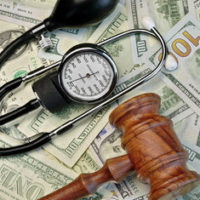 When a healthcare provider inflicts harm or injury on a patient in Maryland, medical malpractice allows the patient to seek compensation and damages from the provider. In most cases, Maryland state law requires the injured patient and healthcare provider to engage in an arbitration process to resolve the dispute quickly.
At the conclusion of the arbitration process, the panel determines whether the healthcare provider is liable for the patient's injuries. If so, the panel will also decide the amount of compensation the patient will receive. If not, the patient will receive nothing. That being said, either party may reject the arbitration award and proceed to legal review of the medical malpractice claim in question.
Rejection Timeline
Maryland Code of Courts and Judicial Proceedings Section 3-2A-06 establishes an exact rejection timeline for medical malpractice arbitration awards. The party wishing to reject the award must service notice within:
30 days of the arbitration panel's final award; or
10 days of the arbitration panel's denial of modification or correction.
Procedural Requirements
In order to reject the arbitration panel's award, the patient or provider must comply with certain procedural requirements under Section 3-2A-06. Within the rejection timelines described in the previous section, either party must accomplish the following:
Serve the other party, the arbitration panel, and the Director of the Health Care Alternative Dispute Resolution Office with notice of rejection;
File a lawsuit rejecting the award with an appropriate state court;
Serve the Director of the Health Care Alternative Dispute Resolution Office with a copy of the lawsuit; and
Accept a trial by judge or request a trial by jury.
At that point, Section 3-2A-06 establishes several requirements for the court that conducts the legal review of the arbitration rejection. Specifically, that court must:
Prioritize the rejection trial date over all other matters, except for criminal cases and workers' compensation appeals; and
Forward a copy of the lawsuit to the Maryland Board of Physicians.
Burden of Proof
Under Maryland state law, there is a presumption of accuracy concerning arbitration panel decisions in medical malpractice cases. Unless there is evidence to the contrary, the Maryland state courts assume that the arbitration panel correctly identified liability and issued a proper award.
As a result, the burden of proof rests squarely with the rejecting party in these situations. If either party is unsatisfied with the arbitration award, they must prove why that award was improper or inaccurate under Section 3-2A-06.
Do You Need Legal Help?
If you have legal questions about medical malpractice lawsuits in Maryland, it can be totally constructive to contact a qualified Baltimore medical malpractice attorney. The attorneys at Iamele & Iamele, LLP in Baltimore, Maryland, have many qualifications in personal injury law, including medical malpractice lawsuits. If you need legal help, contact us today for a free initial consultation.
https://www.iamelelawfirmbaltimore.com/is-there-a-limit-on-damages-for-medical-malpractice-claims-in-maryland/