Is A Separate License Needed To Ride A Motorcycle In Maryland?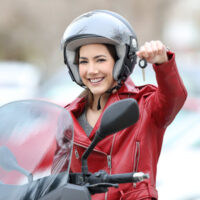 Many enjoy riding motorcycles, and it makes sense because these motor-powered, two-wheeled vehicles offer a unique sense of freedom and exhilaration on the open road. But if you're a resident of Maryland considering taking up motorcycling, know that there are legal requirements you should follow before taking on this adventure.
Safe riding is essential as motorcycles carry unique dangers. After a collision involving a two-wheeled vehicle, talk to a Baltimore personal injury lawyer about securing the funds you will need to settle property and injury expenses related to the accident.
Licensing Requirements for Maryland Motorcycle Riders
In the state of Maryland, licensing requirements for motorcyclists differ slightly from those for operating a standard motor vehicle. If you already hold a valid driver's license, the easiest path is likely to add a motorcycle endorsement to your existing license. If you are eligible for this option, you will not need a separate license to ride a motorcycle, but you need to complete the necessary steps to obtain the endorsement.
To acquire a motorcycle endorsement on your Maryland driver's license, you must follow these steps:
Secure a learner's permit. Before you can apply for a motorcycle endorsement, you must obtain a motorcycle learner's permit. You do this by passing a written knowledge test specific to motorcycle operation. This permit will allow you to practice motorcycle riding under certain conditions.
Complete a safety course. It is not mandatory, but taking a Motorcycle Safety Program (MSP) course is recommended, and doing so will enhance your riding skills and exempt you from having to take a skills test to obtain a motorcycle endorsement.
Take and pass the test. For individuals who choose not to take the MSP course, you'll need to schedule and pass a skills test that evaluates your ability to handle the motorcycle safely.
Apply for the endorsement. Once the MSP course is completed or the skills test is passed, you can apply for a motorcycle endorsement. Of course, you will want to do this when you have riding skills and experience in place as well. To apply, visit an MVA office. There is paperwork that will need to be completed and fees that need to be paid.
Then, once a motorcycle endorsement is added to your driver's license, you're legally authorized to ride a motorcycle in Maryland.
Stay Safe and Follow the Law
Riding with a proper endorsement ensures that you are complying with Maryland's laws, and many insurance providers offer discounts to motorcyclists who have completed safety courses as well, which makes sense because it is well known that completing official safety courses improves riding skills and leads to more competent motorcycle riding.
To learn about motorcycle regulation and what to do should an accident occur, connect with a Baltimore personal injury lawyer.
Who has the answers to your motorcycle related legal questions? If you were involved in a motorcycle collision and are unsure where to turn, talk to the attorneys at Iamele & Iamele, LLP. With extensive experience securing financial losses for Maryland motorcycle riders, our attorney will fight for your rights. Contact us to book your fee-free appointment.