Injury Expenses Due To Stitches And Sutures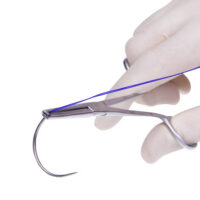 Auto accident injuries range in severity, from minor cuts to more severe wounds requiring stitches and sutures. If you were involved in a Maryland car crash and sustained injuries that required different skin closing procedures, it is important that you speak with a legal professional to ensure you receive a large enough settlement to cover all of your injury expenses.
A Baltimore personal injury lawyer is familiar with all of the different harms that are possible when a person is injured in a car accident, including knowing how much skin closing procedures and plastic surgery procedures cost. Legal professionals know how to fight for the full value of your claim.
Skin Closing Procedures After a Car Accident
Car accident injuries that require skin closing procedures:
Deep cuts. When an accident causes a deep cut that penetrates into multiple layers of skin, stitches or sutures are often required to properly close the wound in order to promote healing.
Facial injuries. Lacerations and cuts on an individual's face means doctors will carefully and meticulously close the skin to promote aesthetic recovery and reduce the possibility of facial scarring.
Prevent infection. Closing wounds with stitches or sutures is also essential to keep the area clear and reduce the risk of infection. Skin closing procedures seal the wound and prevent bacteria or other contaminants from entering and causing other health issues.
What type of skin closing procedure will be chosen by a doctor or healthcare professional will depend on the severity and type of injury.
When stitches are the method of choice, a needle and thread is used to carefully close the edges of a wound, stitches are commonly used for lacerations or cuts that are deep or have edges that are uneven. Similar to stitches, sutures use an absorbable or non-absorbable surgical thread. Sutures are typically the choice when wounds require more precise closure or the cut is in an area of the body that has high skin tension. Staples could also be chosen, spending on the details of the injury.
Seeking Legal Advice for Full and Fair Compensation
If you sought medical care after an accident, you know that there can be expenses attached to following your treatment plan. Some of these costs include the price of stitch or suture treatments after a car accident. Seeking legal advice means you will understand your financial options before you agree to a settlement offer.
An experienced Baltimore personal injury lawyer will assess the extent of your injuries, including what skin closing procedures you already had, and evaluate the financial impact they have had on your life. Because current medical expenses may be only one cost, your attorney can also advise you on obtaining financial recovery for future treatment costs, pain and suffering, and lost wages.
Who can you talk to about your stitches and suture bills after an accident injury? Connect with a veteran car accident attorney, talk to the lawyers at Iamele & Iamele, LLP. To have your claim assessed, contact us to book your fee-free consultation appointment.