Injuries While Using A Ladder Or Scaffolding System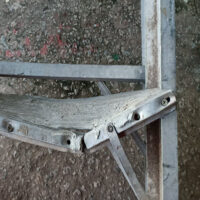 One of the main reasons for injury in workplaces is people falling and items falling on individuals, according to the Occupational Safety and Health Administration, also referred to as OSHA. Some of these falls occur when a worker is using a ladder or a scaffolding system while performing a work task. These work tools are common in trades, including construction jobs. Because injuries can be severe, even life threatening, intensive medical care could be required.
If you sustained a fall injury at your Maryland workplace, you are likely eligible for compensation through workers' comp. That said, there are situations where an employer tries to assert the harm was not a result of the workplace accident or the insurance company works to limit the amount of recovery available. You have rights, talk through your options with a Baltimore personal injury lawyer.
Unsafe Workplaces and Equipment Defects
Anytime a worker is at a high height, there are dangers. Often accidents can be avoided by following safety guidelines and using quality equipment properly. But if an accident does occur when a person or people are on a scaffolding system or ladders, it could be for one or a few of the following reasons:
Fall arrests and other safety systems were not in place.
Tools were not designed or manufactured properly.
Safety protocols were not prioritized within the workplace.
Equipment did not function properly, such as a collapse when all components were engaged.
Objects, such as debris or tools, fell on a person.
Because a workplace ladder or scaffolding injury can be sustained in a variety of circumstances, it makes sense that a range of insurance negotiations and legal options could be pursued after an employment accident. Working with a legal professional means you will fully understand your compensation options, including workers' comp settlements and personal injury claim possibilities.
Faulty Equipment and Liability Claims
When a ladder or scaffolding system is distributed with defects, you may be able to secure a settlement from the company that designed or manufactured the product. Each accident needs to be analyzed individually to determine if there are negligent parties and how to access the financial package needed for the injured individual to receive the medical care and ongoing therapy they need to heal.
A Baltimore personal injury lawyer knows how to secure funds for medical costs, time off of work, and emotional distress. Along with lost wages, there may even be a path to securing compensation for future earning loss, if that applies to your circumstance.
Were you injured while on a ladder or scaffolding at work? Connect with an experienced legal professional to explore a variety of compensation paths, including workers' compensation, personal injury claims, and legal action. You do not have to unpack the complicated process on your own, a lawyer will guide you toward the best outcome. Once the compassionate attorneys at Iamele & Iamele, LLP  in Baltimore, Maryland are familiar with the facts of your case, they will fight for a full and fair recovery. Book a confidential assessment today, contact us for a free consultation.