Injuries Because Airbags Don't Deploy Or Inflate Inappropriately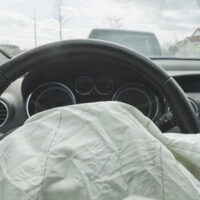 Airbags have saved tens of thousands of lives. They are an important safety feature that helps to reduce injuries and fatalities in the event of a car collision. But there are times when airbags do not work as they should. Airbag malfunctions can lead to injuries that occurred as a direct result of an airbag deploying when it shouldn't have or not working as it was intended.
If you were injured because of a faulty airbag, connect with a legal representative to understand who can be held responsible for your medical bills, pain and suffering, and property loss. After a Maryland wreck, talk to a Baltimore car accident lawyer.
Reasons for Malfunctions and Injuries Connected to Faulty Airbags
There are a variety of reasons why airbags malfunction. For example, the safety features rely on sensors that detect a collision. When that danger is registered by the airbag sensors, the airbags inflate to cushion drivers and passengers from hard surfaces within and surrounding the vehicle. The process of inflation is powerful and happens in an instant.
Airbag force can lead to one or all of the following injuries:
Bone breaks
Loss of hearing or blindness
Head injuries, including concussions
Bruises and burns
Cuts and lacerations
Internal bleeding
Facial injuries
Care following an injury will depend on the severity of the physical injury and the treatment plan developed by your medical team. For instance, if you experience cuts to your face, they may be able to heal with rest, keeping the area clean, and applying medication until it heals. But if the facial injury involves broken cheeks and deep lacerations, recovery timelines can be extended and plastic surgery may be required.
Airbags Could Deploy Too Late or When They Shouldn't
When airbag sensors are not functioning properly, they may deploy too late. In other situations, sensors that are not efficient can result in airbags inflating even though a car was traveling at a low speed and hit a pothole. Or airbags inflate so quickly they burst, so they do not provide a cushion for the pending impact.
Who is liable depends on the details of the situation. The sensors are not the only triggers that can be ineffective. Faulty wiring in the vehicle could have caused the airbags to malfunction, for instance.
Liability isn't always easy to determine, but a Baltimore car accident lawyer has the experience you need to assess your situation. Then, the appropriate party, whether it is an auto manufacturer or a repair technician, can be held responsible. Injuries because another was reckless are eligible for financial relief.
Are you trying to figure out who is responsible for the injuries you sustained with an airbag malfunctioned? To move toward a compensation package, talk to a legal professional. Contact the legal team at Iamele & Iamele, LLP to understand your personal injury claim options. Our attorneys successfully secure compensation for individuals coping with injuries and large healthcare expenses in the Baltimore-Washington Metropolitan area. Contact us today for a free initial consultation.