How Baltimore Paralegals Can Support Your Claim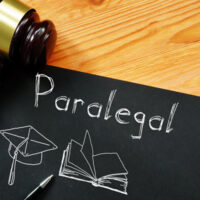 When you work with a legal team, you will be working with attorneys and their support staff, including paralegals. Paralegals are trained professionals who work alongside attorneys who are skilled at providing a range of legal services, including research, document preparation, and client communication. They play an essential role in moving cases through the legal system and achieving favorable outcomes for clients.
At an initial consultation with a Baltimore personal injury lawyer, ask about who will be working on your case and who you will be in contact with when questions arise. It is likely you will be working with both paralegals and your attorney. Being clear about how and when communications will happen from the beginning can help you to understand where your claim is in the settlement process and what to expect each step of the way.
Research, Preparation, and Communication
One of the key ways in which paralegals can support your claim is by conducting legal research to strengthen your need for recovery. This will likely include reviewing case law, statutes, and other legal documents to identify information that can support your claim. A paralegal's expertise in these areas of research can increase your chances of success.
Additionally, paralegals also prepare legal documents, including pleadings, motions, and briefs. These documents provide a formal record of your legal argument and evidence. A paralegal's attention to detail and skill in legal writing can ensure that your legal documents are clear, concise, and effective in presenting your case.
Because paralegals are doing this legal research and document preparation for the attorney, they can be a great resource when clients have questions, as well. They can answer your inquiries, give you updates on your case, and keep you informed of important deadlines and events. This communication means you will be informed without delay, even if your attorney is in a negotiation meeting or in court at the time of your call.
Lean On a Legal Team to Secure a Maximum Settlement
When you hire a lawyer, you are connecting with their entire legal team. Paralegals who work for personal injury attorneys provide a range of administrative support to ensure that your case runs smoothly. From scheduling appointments and organizing files to managing correspondence with other parties involved in your case, the administrative support of your legal team will free up your time and ensure that your case is moving forward as efficiently as possible.
Talk to a Baltimore personal injury lawyer about who is working on their team and how they can help you. Navigating the legal system and achieving a successful outcome is possible when you have professionals supporting your efforts.
Have you been wondering how a legal team could help you? A skilled attorney can review the facts of your case and inform you of next steps, including how they and their legal team, including paralegals, will work to obtain the recovery needed. To learn about your financial options following a Maryland accident injury, talk to the lawyers at Iamele & Iamele, LLP. Schedule your fee-free consultation, call 410-779-6160.