Federal Jury Awards $15 Million in Police Misconduct Lawsuit in Baltimore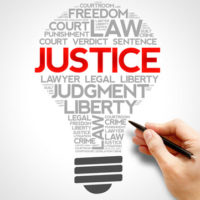 After spending more than two decades in prison for a murder he did not commit, a Baltimore man won a $15 million jury award in a civil lawsuit for police misconduct, as reported by The Baltimore Sun. The man alleged that two Baltimore Police Department homicide detectives invented the murder case and violated his constitutional rights.
This unfortunate episode traces back to 1994. That is when Baltimore police officers found the Baltimore man's girlfriend dead in their home from several gunshot wounds. The Baltimore man was also at the scene, embracing his deceased girlfriend.
The police officers arrested and then interrogated the Baltimore man. But the man professed his innocence throughout hours of interrogation, repeatedly expressing a desire to see the killer brought to justice. After the initial investigation, police released the Baltimore man.
After test results from the Baltimore man indicated the presence of gunpowder residue, however, the authorities brought formal murder charges. During the trial, the prosecution relied primarily on the positive test for gunpowder residue to convict the Baltimore man.
There is evidence that the police officers failed to investigate relevant leads. At one point, FBI agents contacted the Baltimore Police Department to provide evidence that a local hitman killed the girlfriend during a drug deal gone wrong. One of the hitman's accomplices wrote a letter to the Baltimore man and his attorney, claiming partial responsibility for the murder. The victim's father also provided a statement, indicating that the hit man was responsible.
Despite all of this conflicting evidence, there is little indication that the Baltimore Police Department considered any other suspects. Instead, it seems the officers involved were content to allow an innocent man to languish in prison for a crime he did not commit.
Ultimately, the Baltimore man was able to secure a release from prison in 2015. At that time, Maryland state exonerated the man, admitting that he did not commit the murder in question. Then the Baltimore man filed the civil lawsuit against the police. But he did not ask for a specific amount of damages. Instead, the Baltimore man left the damage award up to the jury's discretion.
After a three-hour deliberation, the jury returned a verdict in favor of the Baltimore man. The jury decided to award $15 million in damages. At that figure, this case became one of the largest police misconduct awards in the United States, sending a message that this type of behavior is simply unacceptable.
Contact Us for Help Today
If you or a loved one was the victim of police misconduct, it can be tremendously valuable to seek out and consult with a skilled police misconduct lawyer. Don't hesitate to reach out to us today at Iamele & Iamele, LLP in Baltimore for help.
Resource:
baltimoresun.com/news/maryland/crime/bs-md-burgess-verdict-20171121-story.html