False Statements And Insurance Adjusters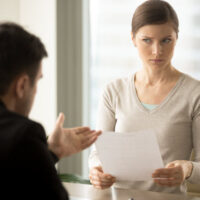 Following an accident injury, you likely are trying to cope with a variety of issues. You may be concerned about your physical health and your mental wellbeing. It is also possible you are worried about how you will be able to financially afford the bills you are receiving and you have no idea how to move forward with a personal injury claim.
Thankfully, a legal professional can help. Because of their background and experience, lawyers know when an insurance adjuster is lying or trying to get you to agree to an amount that is far too low. It is possible an insurance company employee is doing all they can to simply close your claim. To understand how much your claim is worth and connect with the maximum settlement amount, talk to a Baltimore personal injury lawyer today.
An Insurance Adjuster Could Say Their Offer Is the Only Option
If an insurance adjuster has told you that you will end up with no compensation at all if you do not accept their offer, this could be a false statement. It is rare that a person has to accept an initial offer in order to receive anything at all. In reality, your lawyer can negotiate a compensation amount with an insurance company until an agreement is finalized.
Just because someone from an insurance company insists their offer is the best offer doesn't mean it is the best offer for your unique situation. It is possible there are additional items that need to be calculated and added to a settlement offer and an insurance company employee simply does not want to take the time to reassess or recalculate paperwork. But taking time to analyze your claim is essential so you can obtain the full financial package you need to move past an accident.
Pre-Existing Injuries Can Complicate a Claim
There is also the chance that an insurance adjuster will reduce or deny a claim because of a pre-existing condition or injury. But just because they say the compensation amount is correct, does not mean that is the end of the discussion. It is possible an accident worsened your pre-existing condition, and the new expenses incurred are eligible for financial recovery.
Even a friendly insurance adjuster ultimately works for the insurance company, not for you. When you work with a Baltimore personal injury lawyer, they will have your best interests in mind each step of the way. Instead of accepting everything an insurance adjuster says as the truth, consider that they could be making false statements. Before agreeing to a settlement, talk to an attorney.
Did an insurance adjuster offer you an amount that seems too low or not adequate following an accident injury in Baltimore or the DC area? An increase may be possible. Contact an experienced lawyer to secure the compensation you deserve. The attorneys at Iamele & Iamele, LLP in Baltimore, Maryland, have the knowledge and skills you need to file your claim. If you need legal help, contact us today for a free initial consultation.