Exploring Maryland Car & Truck Accident Laws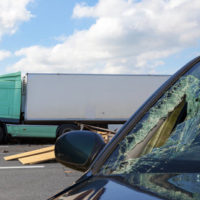 When there is a car or truck accident in Maryland, the driver responsible may face legal consequences in the form of a personal injury lawsuit. Though in order to sue a driver for a truck or car accident in Maryland, the victim must be able to satisfy certain legal standards.
Harm or Damage
In order to file a personal injury lawsuit for a car or truck accident, the victim must incur some type of harm or damage. Otherwise, it does not qualify as a personal injury matter.
In relatively minor car or truck accidents, property damage could be the only real consequence. In those circumstances, the driver who caused the accident is generally responsible for any property damage.
In major car or truck accidents, there is also the possibility of physical injury or even death. If a person sustains physical injury due to an accident, the driver in question may be responsible for medical bills, lost wages, and other costs. And if driver causes the death of another person, they could also be responsible for funeral expenses as well as non-economic damages such as pain and suffering.
Contributory Negligence
In any personal injury dispute, it is vital to remember that Maryland follows the doctrine of contributory negligence. In order to win a personal injury case, the victim cannot play any role in the accident.
Contributory negligence is a particularly harsh standard. If the victim is responsible for the accident at all — even in an extremely minor way — then they are contributorily negligent under Maryland state law. Even if the other party was 99 percent at fault for the accident, contributory negligence bars the victim from recovering compensation in a civil lawsuit.
In many other jurisdictions across the United States, the doctrine of comparative negligence is the law of the land. In that legal environment, a judge or jury evaluates the relative fault of each party to an accident. Damages are divided according to the percentage of fault each party bears. So if one party is 75 percent at fault for an accident, they will bear 75 percent of the responsibility for any harm or damage.
Statute of Limitations
As with all other personal injury claims in Maryland, there is a three-year statute of limitations for car and truck accidents. In other words, victims must file their legal claim within three years of the accident date. In most circumstances, victims are not allowed to file personal injury claims after the three-year statute of limitations expires.
That being said, Maryland state law does provide an exception for wrongful death claims. The statute of limitations for wrongful death does not begin until the victim dies. And sometimes the victim's death might occur days or even weeks after the accident occurred.
Contact Us Today for Help
If you have questions about accidents in Maryland, it can be distinctly constructive to reach out to a knowledgeable Baltimore truck accident attorney. The attorneys at Iamele & Iamele, LLP have vast experience in the field of personal injury law, including car and truck accidents.  If you need legal help, contact us today for a free initial consultation.
https://www.iamelelawfirmbaltimore.com/gross-weight-restrictions-for-commercial-vehicles-in-maryland/