Exploring Civil Remedies To Heal After A Crime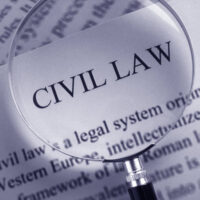 Crime victims do not always believe that criminal charges are enough, and often pursue additional justice avenues as a result. Often this is because the criminal justice process is lengthy and even when it is moving forward efficiently, it may not fully address the harm suffered by the victim.
If you are interested in pursuing civil remedies, talk to an experienced Baltimore crime victim lawyer about next steps. Skilled attorneys are available to listen compassionately to your story and explain what civil remedies could be an option for you.
Examples of Civil Remedies and When They Can Be Pursued
Civil remedies may be pursued concurrently with criminal charges, but they don't have to be, they can also be pursued independently.
An appropriate course of action in many situations, Maryland provides various civil remedies for crime victims, including the following:
Protective Orders. A type of civil order, a protective order can be obtained against an abuser in order to protect the victim and their family members from further harm. This type of order can be obtained by the victim without a criminal conviction and can prohibit the abuser from having contact with the victim.
A court order requiring the perpetrator to pay for the victim's financial losses resulting from the crime, restitution can help a family cope with medical bills, property damage, and lost wages. In Maryland, the court may order restitution as part of the criminal sentencing or as a separate civil action.
Personal Injury Lawsuits. Victims of violent crimes can bring a personal injury lawsuit against the perpetrator to recover damages for their injuries. This type of lawsuit is separate from any criminal charges that may be filed and requires the victim to prove that the perpetrator's actions caused their injuries.
If you or a loved one have been a victim of a crime, it is important to consult with an experienced lawyer to explore all available options for seeking justice and healing.
Talk to a Lawyer About Different Avenues to Justice
Because crime victims in Maryland have various civil remedies available to them that can provide additional avenues for healing, it is important to take the time to discuss the particulars of your case with a Baltimore crime victim lawyer. Pursuing civil remedies provides relief to many families, as doing so can hold perpetrators accountable for their actions, provide financial compensation for losses, and offer additional protection to victims and their families.
Are you interested in pursuing a civil remedy after a crime in the state of Maryland? Once you connect with an attorney, they can share with you which civil remedies could be an option for you and if it is in your best interests to begin the civil remedy process in tandem with criminal charges or not. Talk through your goals and expectations with the legal team at Iamele & Iamele, LLP. Then, you can make an informed decision. A choice that can help you heal and protect your future. Contact us to schedule a no-cost consultation.