Escalator Injuries and Compensation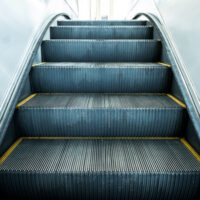 It is estimated that there are approximately 35,000 escalators in the United States. Daily, people step on and off these moving staircases in office buildings, airports, and shopping malls. Because they are a regular part of daily life, individuals often forget that injuries can happen. If you or someone you love were injured because of an escalator in Maryland of the Washington DC area, talk to a Baltimore personal injury lawyer about securing compensation.
What Are the Causes of Escalator Injuries?
There are a multitude of ways escalator injuries can occur. Sometimes, there is an injury because the rider does not use the escalator properly. In these instances, they ignore warning signs, attempt to do risky physical tricks, or ride an escalator in the wrong direction. In these instances, the individual might not be able to prove another party liable.
But the accidents are not always the fault of the escalator rider, and since it is part of a larger property, the property owner may be liable. This may be true if injuries occurred because a property owner failed to do routine maintenance and did not maintain a safe environment.
It is also possible the escalator manufacturer could be liable, particularly if the process of producing the escalator, including the design itself, led to injuries. A malfunctioning escalator that was well maintained by the property owner, could be the fault of the manufacturer, for example.
Common reason for escalator accidents and injuries:
Sudden movements of the machinery, including unexpected stops and starts.
Missing parts due to improper installation of machinery.
Insufficient maintenance, including loose parts.
Footwear that gets caught in machinery.
How to Pursue Escalator Accident Compensation
There can be extreme injury due to an escalator accident. When people use an escalator, they are expecting a safe experience. It can be traumatic to have an escalator experience result in a reduced quality of life, lost wages, and hospital bills when an individual was simply on a shopping trip in Washington DC or within Maryland. Individuals who have been injured on an escalator need to know that discussing their accident with a Baltimore personal injury lawyer can help.
After an injury, it is important to keep records of the event, including accident reports filed with the property owner and medical records. Also, pictures and videos of the location can be helpful. With all of this knowledge, an experienced personal injury attorney will be able to discern who is liable.
It is possible the liable party will deny any responsibility. Their word is not the final say. If a property owner or company is liable, they need to take responsibility. We rely on the convenience of escalators and it is important they are safe to use.
If someone else's negligence caused you or someone you love injuries, you need an experienced personal injury lawyer. The attorneys at Iamele & Iamele, LLP in Baltimore, Maryland, have the knowledge and skills you need to file your claim. If you need legal help, contact us today for a free initial consultation.
https://www.iamelelawfirmbaltimore.com/how-does-a-baltimore-claim-become-a-baltimore-lawsuit/