DUI/DWI Cases And Challenging Breathalyzer Readings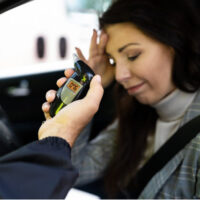 Facing a drunk driving charge in Baltimore or anywhere in the state of Maryland can be scary and upsetting. If you were arrested for drunk driving, it is essential that you understand all of the evidence that has been gathered, including how blood alcohol concentration (BAC) is measured if you were given a breathalyzer test.
It may be possible for you to dispute a breathalyzer reading and build a solid defense, but you need to share all the details of your situation with a skilled Baltimore DUI & DWI lawyer before a path forward can be determined and pursued.
Methods of Blood Alcohol Concentration (BAC) Measurement
In many Baltimore DUI/DWI cases, the percentage of alcohol in a person's bloodstream is a central part of a prosecutor's case. Three methods to measure BAC include the following.
Portable devices that analyze the alcohol content in a person's breath, breathalyzers are used by law enforcement officers for on-the-spot readings.
Blood tests. Considered the most accurate method but less convenient than a breath test, a blood test is when a sample is drawn and analyzed in a laboratory to determine BAC precisely.
Urine tests. Less common and often viewed as less accurate, the possibility of a urine test may arise if there is not the possibility of a breathalyzer or blood test and the possibility of intoxication or drug use needs to be determined.
In part because of the ability to use them at an arrest site, breathalyzer readings are often at the center of Baltimore DUI/DWI cases. While they sometimes provide clear documentation of a person operating a vehicle under the influence, there are other situations where the readings are inaccurate. For this reason, they can be disputed under certain conditions.
Device Calibration Issues and Operator Errors
Breathalyzer device readings are only accurate when they are calibrated correctly and cared for properly. If you were arrested and the device used in your case was not properly calibrated, or the last calibration did not happen within a required timeframe, it may be possible to cast doubt on the validity of the reading.
Additionally, law enforcement officers must follow specific procedures. They are not allowed to administer a breathalyzer test in any way they see fit, there are strict guidelines. Any deviation from these procedures, which could include providing improper instructions or failing to observe the driver for the required observation period, could lead to readings that could be challenged.
Challenging a breathalyzer reading is complicated, but when you connect with an experienced  Baltimore DUI & DWI lawyer you are meeting with a professional who can carefully review the evidence, assess the validity of the breathalyzer reading, and identify potential weaknesses in the prosecution's case.
What questions do you have about breathalyzer readings? Comprehending how BAC is measured and if it's possible to dispute a breathalyzer reading is essential for anyone facing a DUI/DWI charge in the Baltimore area. Connect with the legal team at Iamele & Iamele, LLP to learn what is possible for you. Contact us to schedule a no-cost consultation.