Driving In The Dark And Late-Night Collisions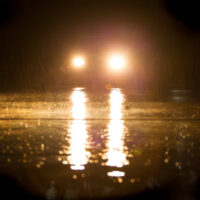 If you suspect driving at night is more dangerous than driving during the day, your suspicion is correct. According to the National Highway Traffic Safety Administration (NHTSA), there are more fatal accidents during the nighttime hours. This is because of decreased visibility and other risks, such as drivers who are driving while under the influence.
All accidents can be stressful and frightening, and late-night accidents are no exception. Many find themselves more fearful after a night accident because they are unable to see the other drivers or the extent of the damage. To stay safe, follow late-night accident precautions. Then, once you are safe and have seen a doctor to have any physical injuries assessed, talk to a Baltimore car accident lawyer about damage recovery.
Steps to Keep in Mind When Crashes Happen Late at Night
It is important you alert law enforcement when an accident occurs, and this is true for night accidents as well. If the area you are in is particularly dark and difficult to find, give the authorities directions, possibly alerting them to the last sign or signal you saw before the accident occurred.
For your own personal safety, let another person know the details of your situation, calling a personal contact is also advised. Let your family member or friend know that you've been in a crash and where you are located. If possible, move to a well-lit location, too. An all-night restaurant could be nearby, for instance.
Of course, just as you would during a daylight crash, you will also need to exchange information with others involved, including contact numbers and auto insurance information. If there is physical damage or injuries, taking pictures of the harm along with views of the accident scene could help to fortify your need for compensation later.
Reducing Glare and Maintaining a Safe Speed
Avoiding nighttime collisions is, of course, preferred. When you drive at a safe speed and perform routine car maintenance, it can help you have a safe journey to your destination no matter what hour of the day you are traveling. Beyond tune-ups, remember to keep your windows and windshields clean, this can help to reduce glare, and glare is an accident risk when driving at night.
Accidents at any hour of the day can result in injuries, medical expenses, and property damage. If you are unsure what to say to an insurance company or feel you are being pressured into accepting a settlement amount that is far lower than what you anticipated or need, connect with a Baltimore car accident lawyer to discuss your options.
Were you involved in a late-night crash in Baltimore or DC? Do not sign a settlement agreement until you understand all of your damage recovery options. You need an attorney working for you. Contact the legal team at Iamele & Iamele, LLP to understand your medical malpractice claim options. Our attorneys successfully secure compensation for individuals coping with injuries and large healthcare expenses in the Baltimore-Washington Metropolitan area. Contact us today for a free initial consultation.